Effervescent nu-disco act Bad Business Club present their second supremely refined full-length album the deliciously sun-soaked and harmonically rich 'Naked Neighbor'.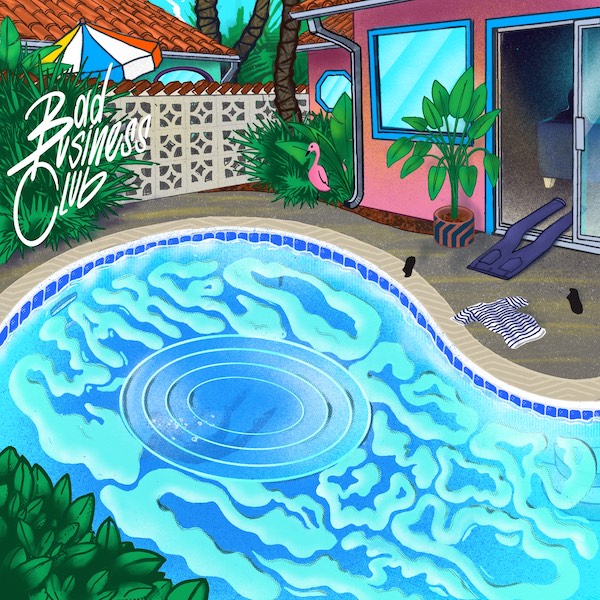 Following excellent releases on revered label, Midnight Riot, the band return with eight delicately honeyed tracks – each of which are certain to ring out blissfully over pool-sides and ocean panoramas throughout the long hot summer and far beyond. Informed by an irresistible blend of Moroder-infused disco edge, yacht rock flair, and understated modern gloss, their sound is the aural embodiment of a gentle summer breeze. The band wrote 'Naked Neighbor' at a hilltop cottage in Puerto Rico, examining the theme of leaving old baggage behind as they reflected on their break from everyday Brooklyn life.
The infectious vocals of opening track 'Flip me Over' glide over lush pads, hypnotic arpeggios, and tight drum patterns to create a dynamic disco bullet, elegantly revelling in equal measures of night-time excitement and morning confusion.
The bittersweet refrains and yearning vocals of 'Tired of Being Over You' are at once subtly melancholic and gorgeously life-affirming as they weave the tale of "washing away an old flame from another life in another country."
'Too Hot to Tame (Prelude)' is a mesmerising sunrise meditation, with celestial keys soaring over reverb-soaked atmospherics and psychedelic- tinged guitars. Co-produced with San Francisco-based DJ Cole Odin, the track is a re-imagining of elements of 'Runnin' from You' – with rediscovered instrumental takes surreptitiously recorded from the band's guitar and piano players.
The horizontal jam 'Runnin' from You' stunningly showcases the sugary harmonies forged between Alex Van's seductive baritone and Sam Behr's enchanting leads. The powerful vocals rise over a tight bed of funk- flecked instrumentation, making way for refined guitar solos, solidified throughout by a deeply weighted bass and crisp drums.
Named after the Puerto Rican house in which the album was recorded, the overt disco energy of 'Casa Soleada' bursts with good time electricity, before the tempo drops dramatically to allow the sweeping pads and muted guitar plucks of 'Reflections' to meditate over the album's theme of leaving old baggage behind.
'Early Morning Hours' unfolds to an engaging arrangement, as profound vocals power the track over the steady groove, with wistful lyrics combining with layers of intricate melodies and emotive harmonies.
Finally, LA-based Woolfy's Summer Sunshine Version of 'Flip me Over' closes things off in style, with stripped sonics allowing space for the soothing vocals to breathe before astral synths add a mind-altering sheen to the intoxicating groove.
ARTIST: BAD BUSINESS CLUB
LABEL: BUNNYMAN BRIDGE
TITLE: NAKED NEIGHBOR
FORMAT: VINYL & DIGITAL ALBUM
RELEASED: 13TH AUGUST DISTRIBUTOR: SYMPHONIC