Beyond their highly sought after 1978 album Festa Para Um Novo Rei¬ – home to the mystical jazz-funk classic 'Vidigal' and released on Philips' iconic Musica Popular Brasileira Contemporanea series (MPBC) – little is known about Marcos Resende & Index, even to aficionados of obscure Brazilian music. Far Out Recordings is immensely proud to present their previously unreleased self-titled debut album from 1976, contributing a crucial missing work from the glory days of progressive Brazilian instrumental music.

Born in Cachoeiro de Itapemirim, Brazil in 1947, Marcos Resende was a prodigious child who learned to play the accordion at the age of two, and the piano aged six. In spite of his immense musical potential, he travelled to Lisbon in the 60s to study medicine. Yet continuing to explore his musical passion on the side, he formed a trio which went on to open for Dexter Gordon at the Cascais Jazz Festival in 1971. From here he formed the electronic oriented prog-jazz group Status, who opened shows for the likes of Elton John, Phil Woods, Stan Getz, Art Blakey & The Jazz Messengers, but in spite of their relative live success they have no known recordings.

Now established as a highly regarded keyboardist, composer, and innovative electronic musician, Resende returned home to Brazil following Portugal's Revolução dos Cravos in 1974. Inspired by US jazz and British progressive rock he'd experienced while residing in Europe, Resende went all out acquiring a keyboard arsenal to be reckoned with, which included the Prophet 5, Yamaha CP-708 and Mini Moog. Determined to integrate his newfound inspirations with Brazilian rhythms and jazz traditions, he formed a new quartet with Rubão Sabino (bass), Claudio Caribé (drums) and the late great Oberdan Magalhães, of Banda Black Rio and Cry Babies fame. Marcos Resende & Index recorded their self-titled debut at Sonoviso Studios with the legendary sound engineer Toninho Barbosa, known as the 'Brazilian Rudy Van Gelder' whose impressive resumé includes the era defining classics Light As A Feather by Azymuth, Previsão Do Tempo by Marcos Valle, and Quem É Quem by João Donato. Marcos Resende & Index fits perfectly amongst these masterpieces, sharing both the timeless ethereal qualities as well as the progressive and futuristic ideals of Light As A Feather in particular.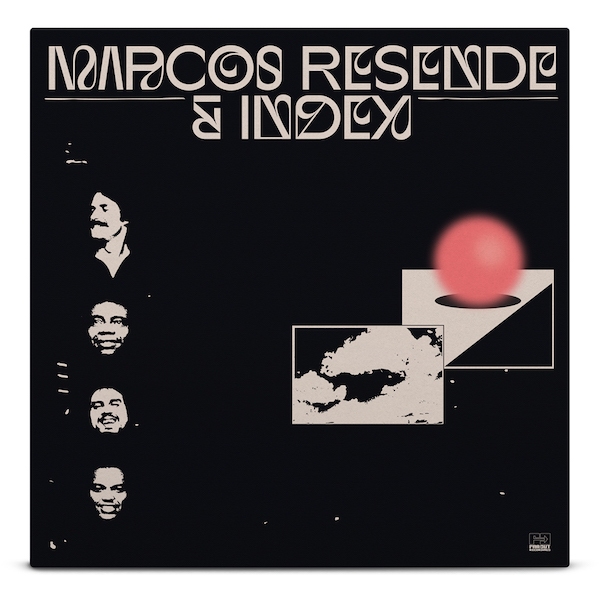 Top to bottom: Marcos Resende, Rubão Sabino, Claudio Caribé, Oberdan Magalhães

At the time of recording, Resende had hoped to release the album on the famed CTI Records, and although a deal with the label almost came to fruition, it fell through and the album was shelved by Marcos who had other priorities working with the likes of Gilberto Gil, Edu Lobo, Gal Costa and Carlos Dafé, as well as making music for TV and film.

Thankfully Marcos kept the tapes from the Sonoviso sessions safe and presented them to Far Out's Joe Davis at his home in Lisbon in 2018, but only after 25 years of Joe pleading to hear them. Marcos has worked closely with Far Out towards restoring these recordings over the last two years, but tragically passed away after a battle with stomach cancer on 12th November 2020 at the age of 73, only a matter of weeks before the album was due to be unveiled to the world. With the blessing of his family who wish to honour his memory by ensuring these historic recordings see the light of day, Marcos Resende & Index will be available on vinyl, CD and digital formats from 29th January 2021.

Album tracklist & Credits:

1. My Heart 5.41 (Marcos Resende)
Marcos Resende – Keyboards
Rubão Sabino – Bass
Claudio Caribé – Drums
Oberdan Magalhães – Tenor Sax, Soprano Sax, Flute

2. Nina Neném 5.13 (Rubão Sabino)
Marcos Resende – Keyboards
Rubão Sabino – Bass
Claudio Caribé – Drums
Oberdan Magalhães – Tenor Sax, Soprano Sax, Flute

3. Praça Da Alegria 8.20 (Marcos Resende)
Marcos Resende – Keyboards
Rubão Sabino – Bass
Claudio Caribé – Drums
Oberdan Magalhães – Tenor Sax, Soprano Sax, Flute

4. Nergal 9.17 (Marcos Resende)
Marcos Resende – Rhodes, Yamaha CP-708, Electric Pianos, Mini-Moog
Fernando Gama – Bass
Vitor Biglione – Electric Guitar, 12 Strings
Paulo Soledad – Acoustic Guitar
Wilson Meirelles – Congas
Café – Caxixi, Pandeiro
Alfredo Gomes – Drums
Barrosinho – 1st Trumpet
Bidinho – Trumpet
Wanderley – Trumpet
Lucio – Trombone
Zé Carlos – Tenor Sax, Flute
Leo Gandelman – Alto Sax, Flutes
J. T. Meirelles – Alto Sax, Flute

5. Martina 10.09 (Marcos Resende)
Marcos Resende – Keyboards
Rubão Sabino – Bass
Claudio Caribé – Drums
Oberdan Magalhães – Tenor Sax, Soprano Sax, Flute

6. Behind The Moon 4.06 (Marcos Resende)
Marcos Resende – Keyboards
Rubão Sabino – Bass
Claudio Caribé – Drums
Oberdan Magalhães – Tenor Sax, Soprano Sax, Flute

All tracks recorded and mixed by Toninho Barbosa @ Sonoviso Studios, Rio de Janeiro, Brazil, between 5th – 28th September 1976
All tracks composed by Marcos Resende except "Nina Neném" by Rubão Sabino
All arrangements by Marcos Resende
Produced by Marcos Resende
Project research and coordination – Joe Davis

Marcos Resende & Index – Marcos Redende & Index is released to Far Out Recordings on Jan 29th.
Listen, stream, buy here – https://backl.ink/