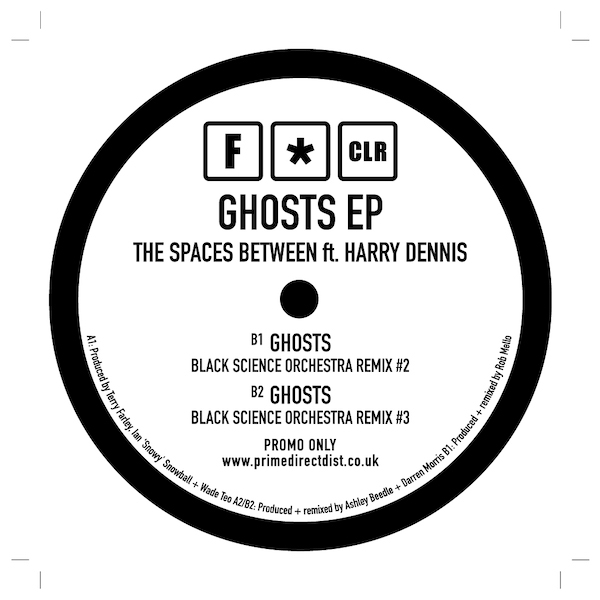 The Spaces Between were formed out of creative studio sessions in the summer of 2020 and comprises of bona fide house legend Terry Farley, electronic music producer Wade Teo and renowned author and co-owner of Club Chi'll Records, Ian 'Snowy' Snowball. The idea for 'Ghosts' came from Terry's idea to reference the Jazz greats who have gone to glory leaving behind their astonishing musical legacies. Within days of emailing a comprehensive list of jazz artists to Chicago House luminary and The It/ Jungle Wonz member, Harry Dennis, an answer with Harry's sparse, haunting vocals was received. These were laid down over a bed of live instruments and electronic sounds and the combined talents of The Spaces Between created the compelling jacking jazz vibe of 'Ghosts'.

Snowy ran the track past Jo Wallace at F*CLR Records – it was love at first listen. Jo suggested the track should be part of an EP with remixes from the newly reformed Black Science Orchestra. It was agreed and provided an ideal opportunity for Ashley to work with Terry once again, reinforcing the Junior Boy's Own heritage.

The first incarnation of Black Science Orchestra began life in 1992 when Ashley Beedle joined forces with Rob Mello and their debut release, 'Where were you' exploded onto the global dance scene via the iconic UK house label JBO. Broken in the US by the Godfather of House, Frankie Knuckles, 'Where were you' entered into the hallowed halls of immortal dance music. Black Science Orchestra has become one of the most respected deep house acts of the 1990s, with the revered album 'Walter's Room' and the legendary genre crossing 'New Jersey Deep' track that is considered one of the top dance tracks of all time and rarely leaves discerning DJs' record boxes. Fast forward 29 years and original BSO founding fathers, Ashley and Rob decided that both they and the world needed the sound of Black Science Orchestra again and decided to reform, inviting long time musical and studio accomplice Darren Morris to join the collective.

When presented with the original version of 'Ghosts', Rob, Ashley and Darren loved it and all heard various ways it could be reworked in a true Black Science Orchestra way. Donning their pandemic production hats and remotely getting their feet back under the studio desk again, they worked together to create distinctly different remixes ranging from the deep, spacy electronic to the tough and psychedelic sleazy funk. With original BSO productions included on this EP, 'Ghosts' has helped square off the circle and the Black Science Orchestra conductors are back and mean dance floor business!




The Spaces Between – Ghosts EP (Original Version + Black Science Orchestra Remixes) is out on Fri 5th March.
Support the artist! Listen, stream, buy here – https://fclrmusic.bandcamp.com/