Unearthing audio gold with reissue label Pressure Makes Diamonds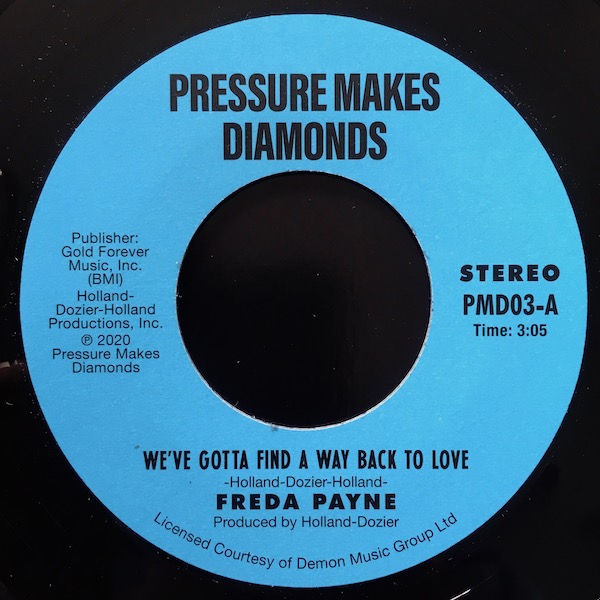 The art of the reissue is a difficult one to grasp. There was a time not so long ago that any serious collector cocked their nose in the air at the thought of buying a cheaper reissue over the original; yes, there's snobbery attached to the world of digging, go figure. It did actually seem at one point that all and every vinyl record was being reissued, with the question in mind of "does it need it?" and the answer is "probably not" in many cases, not when the original is so still readily available and affordable. Then again, that's just one viewpoint.


There are plenty out there, who are happy just to own the record and don't give such thoughts any credence, fair enough. There's also the very valid and important point that with technology comes the opportunity to improve on an original pressing. Many time honoured records were bestsellers and continue to be bestsellers, in which case the repressing and reissuing of such a record can improve the overall quality and enhance the listenership experience. A good thing.


In recent years the art of the reissue has become an industry all on it's own, and a hugely valuable one at that. The same serious diggers who once scoffed at such a notion now voraciously snap up the plethora of unheard and previously unreleased gems. The art of the reissue has become one of the most actively important movements in the resurgence of the vinyl market. Remember when we were told that vinyl was dead and the emergence of the CD was going to take it's place? Thankfully that never happened. I once owned a pair of Ninjatune slip mats back in the mid-90's with the simple call to action of 'save the vinyl' etched on them. Save the vinyl we did, there are die hards, who never stopped buying vinyl. The frustration of certain music back in the day only getting a CD release stands as testament as to why many music lovers have quite an extensive CD collection that sits idly on shelves, or in boxes that rarely get opened.


Labels like Mr. Bongo, Soundway, Awesome Tapes From Africa, Numero Group, Light In The Attic, Athens Of The North, Music From Memory and so many more, have been extensively excavating Worldwide collections, unearthing not only rare pressings but previously unheard and unreleased gold. This serves to introduce the opportunity for us music lovers to own that once holy grail, without remortgaging the house, as well as blessing us with a catalogue of music we may well have never discovered. It all also serves as a renewed opportunity – however shortlived – for the artist to finally be heard and enjoy long, overdue remuneration for their art. Many artists have gone on to Worldwide recognition and toured extensively on the back of such labels discovering their music and reissuing it for wider release.


This resurgence of reissues doesn't stop at established record labels. There has been an opportunity for hardcore diggers to break into the market also. Two of those diggers being Gary Johnson and Graham Luckhurst. Gary is a veteran dj and digger taking early influence from the likes of Greg Edwards, Dave Brown, Robbie Vincent, Chris Hill and Gilles Peterson. His record collection has become something of legend and the envy of many who know of him. Graham has also been actively involved in the music scene since a young man. A Dj, producer and promoter and with a string of releases on his own 'Unique Uncut' imprint. Unique uncut now serves as a forward-thinking music industry consultancy offering label services, strategy, e-commerce, sync & licensing and coaching. Both of these gentleman are closely affiliated with the Mr Bongo record label and with the help, advice and support of the label, Gary and Graham founded their own reissue imprint 'Pressure Makes Diamonds' in 2019. The inaugural release to the fledgling label was the impossibly rare soul/boogie bomb 'Paradise Island' by Azwon. Fast forward 12 months and the label has already caught the attention of influential DJs and diggers Worldwide. Gilles Peterson has included PMD's 5th and latest release 'Modernization' by Sons Of The Kingdom in his best reissues of 2020 list. In fact, release 3, 4 and 5 have all emerged in the last 3 weeks, adding three incredible 7″ reissues to the catalogue.


Shall we?


Freda Payne – We've Gotta Find A Way Back To Love / Two Wrongs Don't Make A Right
Label: Pressure Makes Diamonds
Release date: 19th November 2020.
Format: 7" VINYL ONLY
Slept-on modern soul/funk featuring the break from "Ham 'N' Eggs" by A Tribe Called Quest. Cut loud & proud. Officially licensed from Demon Music Group.





Bessie Banks – Don't You Worry Baby The Best Is Yet To Come / Try To Leave Me If You Can
Label: Pressure Makes Diamonds
Release date: 26th November 2020
Format: 7" VINYL ONLY
Ultra-rare modern/Northern soul/funk crossover, now extremely expensive in its original form. Cut loud & proud. Artwork based on the original promo version. Officially licensed from Phase One Network.




Sons Of The Kingdom – Modernization / Hey There
Label: Pressure Makes Diamonds
Release date: 4th December 2020
Format: 7" VINYL ONLY, LIMITED
Heavily in demand on 45, we are proud to present these deep soul, funk, modern soul crossover tracks from Sons Of The Kingdom. Artwork based on the 1980 7" (KOG-7) that now goes for big money. Licensed from Numero Group under limited license, so no repress on this one.
'Sons of the Kingdom' were part of the 1970's 'Black Hebrew' movement in which black Americans traveled to Israel, primarily from Chicago. Numero Group released an excellent compilation focussing on key songs from this period called 'Soul Messages From Dimona', which was released in 2008.


Listen to and purchase here