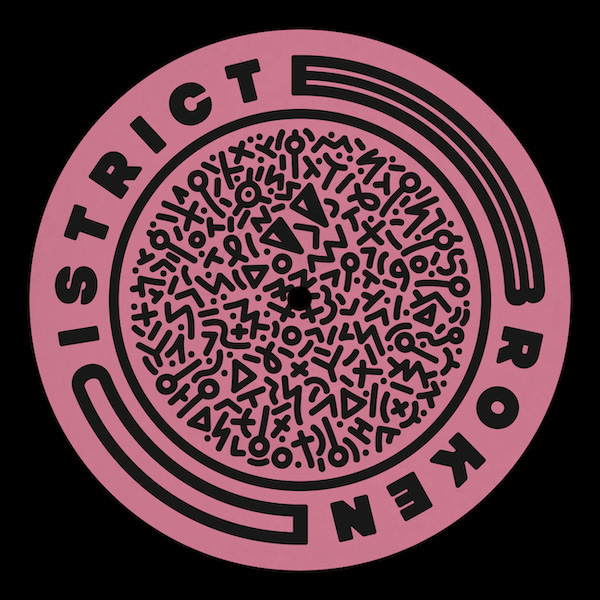 Broken District presents Jus Jam "90s Anxiety", the first mini LP from the label co-founder, offering a deep dive into his hazy musical world inspired by the nineties aesthetic. A true journey, ranging from UK garage to dreamy hip-hop beats, early-electro sounds and new-jack swing.

Jus Jam is Stéphane Bonnamy's current solo project, a follow up to his former aliases Maarius and D. Fine (Discobelle Records, Foul & Sunk). This is also his main project as opposed to his side works with Real J. (under the Jam For Real moniker) and Momla (as Jus Tings).
A long-standing artist from the scene, Jus Jam has been releasing music and playing behind the decks for almost 15 years. He used to run the French label Khasia Hills (upon which he released the beautiful "Monsoon EP") before launching Broken District in 2018 with his friends Momla and Antwan.

Broken explores alternative music styles blending the influences of the label's cofounders, including House- Music, Jazz, Hip-Hop, Funk, Soul, and experimental music.
Started in 2018, the label already counts 7 releases and already gathered support from highly regarded medias such as Worldwide FM, XLR8R, Mixmag, NTS, Le Mellotron, Les Yeux Orange, Bolting Bits, and more. The label's records can be found in the crates of Gramaphone Chicago, as well as Phonica in London, OYE Records (Berlin) and Technique Tokyo, just to name a few.
The BKD roster consists of a mix of established artists and newcomers from the underground scene, including: SofaTalk, Real, J., Sam Irl, Turbojazz, Marian Tone, Ssytem Olympia, Junktion, Leon Revol, Setwun, Duktus, Jeppe Wolmer, Interface Palm, and the label cofounders Jus Jam & Momla.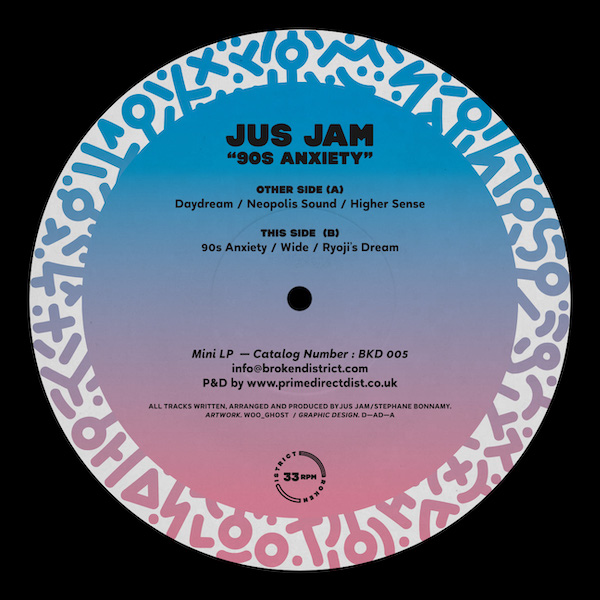 "90s Anxiety" is a contemporary synthesis of the artist's musical influences, deeply rooted in the 90s underground culture, such as Hip hop, UK-based club music (garage, jungle, 2-step), broken beat and breaks. With soul and jazz, these are the styles that forged the musical footprint of Jus Jam, often described as dreamy, contemplative productions boosted by sharp beats and smooth basslines.

On the opening track "Daydream" and its B-side sister "Ryoji's Dream", Jus Jam delivers 2 dreamy Hip-hop compositions, halfway between trap-music, seinen manga soundtracks and Lynch's surreal cinema. These two ones are made for forward-thinking hip-hop heads.
The A2 track "Neopolis Sound" is a subtle ode to early-electro and breakbeat sounds, but also sci-fi movies and video games from the nineties. It warms the ears for what we consider the highlight of the LP, "Higher Sense", a modern and dreamy vision of breaks / jungle music with elements of jazz and ambient. This is Jus Jam's style at its best, mixing plenty of influences to create something new.

Flipside opens with the title track "90s Anxiety", a contemporary take on new jack swing mixed with elements of house and funk, brought by the live recorded slap bass. Up next, "Wide" goes full 2-step garage with its steamy atmosphere, syncopated beat and powerful sub-basses. The break, with its eerie organ keys and violins, makes it an instant classic and unforgettable dancefloor filler.

The above mentioned hip-hop inspired track "Ryoji's Dream" wraps up the LP and brings a delicate conclusion to this multi-influenced release, once again expanding the Broken District to newer, uncharted territories.

Jus Jam – 90's Anxiety is out on Broken District Records on Friday 22nd Jan and you can buy it here – https://brokendistrict.bandcamp.com/

You can catch an exclusive guest mix from Jus Jam on Friday at 22:00-23:00 GMT on 1BTN. Listen here – https://1btn.fm/