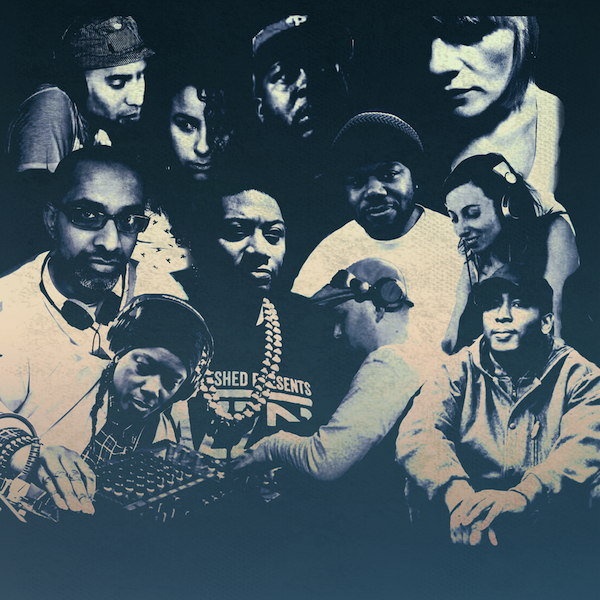 Born in West London in mid '90s, broken beat (bruk) has had a resurgence in recent years. Labels like 22a, Eglo, and Rhythm Section have ushered in a new generation of producers, who continue to fly the flag for one of the most important musical developments out of London and the UK as a whole. Pioneers of the original movement are working with new producers and helping the scene to evolve to new heights. On Sunday 1BTN host a day of music that pays tribute to the scene that introduced a new style of music to the World.

This is not just about bruk – although the idea is centred around that – the shows that we are broadcasting today capture the mood and the moment of a scene that enveloped London and rest of the World during the 90's, 00's and which continues today. Taking in soul, jazz, nu-jazz, bruk, beats and more we have engaged a handful of the trailblazers from those heady days, as well as lovers of the scene, to give us their take on a movement that they have all been pivotal in pushing, promoting and progressing.

Introducing,

Katie Barber
1BTN resident, Katie, was part of the worlds only all-female broken beat/Nu Jazz platform Ladybugz, a highly successful DJ collective delivering the best in Broken Beat, Neo Soul, Future Jazz. Katie is also a promoter of TBC and Adventures in Paradise parties, also co-owner of 'Adventures In Paradise' record label and she has had a long and credible career as a DJ on radio and in clubs and festivals all over the UK and abroad.

Katie caught the DJ bug back in the early 90s but things really kicked off for her at the tail end of the decade with residencies for the Dorado record label and Patrick Forge and Phil Asher's highly influential 'Inspiration Information' nights at the Notting Hill Arts Club. Since then she's performed and held down residencies at a myriad of festivals including Glastonbury, The Big Chill and Croatia's Garden Festival , clubs such as The End, Fabric and Plastic People and famed nights like Need 2 Soul, Faith and Co-Op.

Marc Mac
True originators are thin on the ground but Marc Mac's claim is more robust than most. A pioneer of Jungle/Drum & Bass, as part of the duo 4hero he massively changed the face of 90's music and made a huge contribution to dance culture. Forging ahead with new beats and new techniques, the London duo released a steady stream of precious moments and crafted a sound which is entirely their own.

In 1989 Marc founded Reinforced Records and produced the first release – Risin Son' in 1990. Reinforced Records stood at the forefront of the cutting edge Jungle/Drum & Bass scene throughout the 1990' and hosted the strongest line-up of producers and DJ' giving some of them their introduction to the music industry. Some of the many artists to serve time with Reinforced include Goldie, Doc Scott, DJ Randall, Nookie, Tek9, Grooverider, Kemistry & Storm, Wings (aka Roni Size, Krust and Die), A Guy Called Gerald, Peshay, J Majik, Photek and of course Marc's own groups such as 4hero, Manix and Tom & Jerry.

Marc endeavours to explore new genres with his 4hero partner Dego inspired a generation of producers. Their landmark album "Two Pages" marked a new era of Nu-Jazz and Broken Beats and they received both a MOBO award and a Mercury Music Prize nomination.

Never content to sit back and admire creations, Marc continues to push boundaries and explore the orbital space around many genres. Examples of his eclectic production output can be heard on his jazz/hip-hop offerings such as Visioneers and the new album by T.R.A.C., his Techno alias Nu Era and his afro-latin productions as Natures Plan.


Mikey Futuristic
Mikey's lifelong passion for music and a desire to express himself creatively lead to experimenting with deejaying in the 2000s. Since then he's played at various venues in the UK and overseas and lead him to present the 'Futuristic Sounds Radio Show'. Originally on pirate radio station Deja Vu FM, since 2007, Mikey, Joined the 1BTN family in 2019. Mikey is also resident DJ at the Jazz Re:fest festival which has been held at the Brighton Dome for the last two years.

Mikey's show takes in broken beat, cosmic jazz and futuristic soul along with a sprinkling of heritage grooves to connect the dots.

Sophie Callis
Sophie, has graced decks worldwide with her signature fusion of jazz Funk, Soul, Boogie, Disco, Electro, House, Hip-Hop & World Music. Steadily building up her repertoire, Sophie, has played alongside the likes of Gilles Peterson, Norman Jay, Trevor Nelson, Kerri Chandler, King Britt & 4hero to name but a few. From underground clubs & festivals to exclusive events such as the Cannes Film Festival, Monaco Grand Prix and the prestigious Hotel Costes Paris, Callis continues to make regular appearances at many reputable venues worldwide. She has also earned her stripes playing for London/Paris Fashion Week, Louis Vuitton, 2012 Olympics, MTV/EMI music, as well as spinning for the legendary Quincy Jones rockin' super yachts, beaches & secret locations for A list stars & celebrities.

Sophie, was also a member of Ladybugz, leading to a weekly show on Ministry of Sound Radio and many festival line ups such as The Big Chill, Southport Weekender, Gilles Petersons Worldwide Festival, Notting Hill Carnival and more.

Tayo Maronie
Tayo is a longstanding DJ with outstanding taste in good music from boogie and house to broken beat. Tayo has played parties, festivals and club nights in London, the rest of the UK and Worldwide. Tayo was also a member of the infamous LadyBugz collective and has a background in record distribution and independent music PR. Currently director of TMPR Tayo is taking care of PR for the likes of BBE, At Jazz Records and Compost.

Tayo is a deadly selector and a serious music knowledge.

Daz-I-Kue
Daz-I-Kue – a Londoner now Atlanta/Nashville resident and former member of the world respected production crew and broken beat pioneers, Bugz In The Attic. BUGZ remixed the likes of Amy Winehouse, Macy Gray, Soul II Soul and 4 Hero and are seen widely as one of the pioneers of the broken beat genre.

Daz is a Dj, producer, sound engineer and promoter. Partnering with Khari Cabral Simmons (Jiva/India Arie) he has worked with some of ATL's and the US's finest talents including, Kenya, Donnie, Trina Broussard, Anthony David, Avery Sunshine, Rhonda Thomas, Heston, Kai Alce & DJ Kemit. Daz completed numerous projects including the 'BB Boogie' album, which was released on R2 Records, who also boast the likes of Osunlade, Bobbito and Karizma on their roster.

Currently Daz is working on numerous exciting projects including a collaboration with well known jazz organization, Jazz Re:freshed. He's also working on numerous releases to his own 'I-Kue Recordings' label and the 'Back To The Present' advocacy imprint, in which revenue raised and donated directly to non-profit organizations undertaking community or civil rights work in the US and UK.


Robert Luis
Robert Luis is the founder, co-owner and A&R for Tru Thoughts, the record label based in Brighton. He has worked with and introduced a whole host of acts into the musical world, signing Quantic, Bonobo, Belleruche and Alice Russell and releasing their debut albums, as well as signing the likes of Nostalgia 77, Werkha, Hidden Orchestra, Zed Bias, Moonchild, Anchorsong, Rhi, Rodney P, Wrongtom, Harleighblu, Flowdan, Lakuta and Hot 8 Brass Band.

Rob's DJ style covers a wide range of music from beats, jazz, jungle, grime, funk, bass, tropical, hip hop, reggae, soul to drum and bass. Balancing new and upfront music whilst also playing music from past decades as well as special dubplates. This eclectic style has resulted in him DJ'ing across the world, DJing everywhere from underground clubs in Moscow, USA, Europe, Australia and across the UK to MTV Party's in Cannes, Bestival, Montreux, SXSW, The Big Chill, V Festival and a whole host of festivals across Europe.

Robert has also recorded music under the name Nirobi, which includes a collaboration with Bonobo (under Bonobo's Brarakas guise). Nirobi is also the name Robert uses for his promo only DJ edits and remixes. His reworks of DJ friendly tracks have had the support of the likes of Mos Def, Gilles Peterson, Quantic, Laurent Garnier, Rob Da Bank, Mr Scruff, Dimitri from Paris, Ashley Beedle, Daddy G (Massive Attack), Toddla T, Danny Krivit, Garth Trinidad, Rich Medina, Nickodemus and many others.

Mark 'G' Force
Born in West London, Mark, made his name as a regular DJ on the London pirate radio station Don FM and as a jungle producer. He has since gone on to guest on the biggest and best radio stations in the UK.

Mark has collaborated with artists such as Seiji and Ils putting out Drum & Bass for Marc Mac's Reinforced Records. Mark was also a member of Bugz In The Attic, playing all over the world and at the legendary Co-Op club night.

Mark is still heavily involved in production and continues to push and promote the scene worldwide.

Marcia Carr
Marcia Carr is a long-standing club DJ and radio presenter and producer of Everything Good – a regular presentation on London station Rinse.fm. Marcia is the curator and director of the all-vinyl, female DJ squad Girlz B Like and she was also a former member of, Ladybugz.

The vinyl connoisseur, aka Marcia DaVinylMC is a stalwart of the UK Dance music scene with over 35 years experience steeped in the culture with a multitude of skills. As a former street/jazz dancer she knows how to work up crowds – from festivals to nightclubs, to DJ'ing in a castle to a horse-box – taking audiences on a musical journey that nearly always veers off in to sheer eclectism.

Her club DJ sets of deeper, soulful, jazzy style encompassing tech house, Afro, gospel house, disco, broken beat, nu jazz and dubstep have also featured on air of a variety of radio stations as far flung as Singapore and Sri Lanka to a host of European neighbours – Estonia, Finland, Norway, Luxembourg, Greece, Ireland, Switzerland, Scotland – to Mi-Soul radio, and venues like the Ministry Of Sound radio, alongside the likes of Bob Sinclair, David Morales and MAW. Invitations to spin around the world have continued to find favour and appreciation for Marcia gaining new fans everywhere she goes.

As a renowned music journalist Marcia's scribes have appeared in many a dance publication over the years. Marcia Carr also runs music PR / Artist agency company Talking Music Productions, is a host of numerous different events (both club and charity events). From time to time she has been involved with studio production and remix work, has also provided independent music consultancy to many organisations, all of which illustrate exactly why she is a tour de force, and still very much in demand around the world.

WheelUP
WheelUP is the broken beat moniker of renowned international DJ, drum & bass producer and head-honcho of W10 Records – Danny Wheeler. Turning his hand to the burgeoning sound of West London's resurgent broken beat scene (aka bruk), Danny Wheeler was knighted the name 'WheelUP' by non-other than Afronaught, the founder of 'Bugz in the Attic' and a pioneer of the broken beat genre.

Originating from the drum and bass world, Danny Wheeler's debut: 'Ghost & Lost Highway', launched him and co-producer, Sub Focus into the top of UK Dance & Indie Charts. An international DJ, WheelUP has graced the decks everywhere from Fabric London (alongside mentor & friend LTJ Bukem) to Womb in Tokyo, Cape Town to Columbia, Beijing to Bosnia and beyond.
With a unconventional introduction to the world of the arts, as an actor, singer and dancer on the West End stage at The Royal Opera house and at The Old Vic at just 13 years old, Danny Wheeler has released four full length albums – 'The Brazil Project' (Far Out Recordings), 'Universal Language', 'Cultura Futura' and 'Magnetise' making his mark on drum & bass.

WheelUP now records for Tru-Thoughts, amongst others, and is also a resident on 1BTN.