The Diabolical Liberties released their album 'High Protection & The Sportswear Mystics' on 13th November 2020 via the boundary breaking On The Corner Records label, a bastion of oddball jazz and electronics from the worldwide underground.
Comprising Rob Gallagher (vocals, guitar, bass) and Alex Patchwork (head of square-pushing), the duo's second longplayer is a rough, unpolished gem of a record that falls clumsily in the gaps between post-punk, electronica and jazz. Lead single 'Sliders' embodies this identity crisis, simultaneously honouring and deriding the ubiquity of said footwear over resonant breakbeats, plonking cowbell and the screeching horn of Ignacio Salvadores (King Krule / Gal Go). Elsewhere, the brilliant Emma Jean Thackray sprinkles 'High Protection' with cosmic dust, 'Bigger Than You' is a ramshackle (but no less respectful) homage to the 70s Ghanaian disco/fusion purveyed by legends like Ebo Taylor and Pat Thomas; 'Fix My Battery' documents a trip to the phone repair shop over a guiro and bell-heavy groove built from whacking varying lengths of plastic drainpipe; and 'Then We Were Money' explores the same spaceways as Brooklyn's Standing On The Corner collective – fusing freaked-out freeform blues and busted boom-bap. All produced and recorded in a shed, on train platforms, trains, tubes and occasionally Caffè Nero in Cheam when it was quieter than home.
All the musical (con)fusion starts to make sense when you take into account Gallagher's long and distinguished career in music. A truly original British voice, he was a stalwart of the mid-80s London jazz scene (centred around the WAG club and Dingwalls) and a key agitator/forerunner of the fusion that was bubbling up. He formed the band Galliano in 1987 and was the first signing to Eddie Piller and Gilles Peterson's now legendary Acid Jazz record label. Sidestepping onto Peterson's freshly minted Talkin' Loud imprint, Galliano's debut album "In Pursuit Of The 13th Note" materialised in 1991 and was an international hit – effortlessly marrying cosmic funk, blues and an aura inspired by spiritual jazz with a conscious, poetic flow. The don dada Roy Ayers contributed vibes and scat. Four albums later in 1997, Gallagher disbanded Galliano and embarked on a solo career as Earl Zinger. The following year he formed the jazz/electronic duo Two Banks of Four with Dilip Harris aka Demus, releasing "City Watching" on Ben Wilcox's Sirkus label in 2000. Later, in 2012, he was also behind the experimental blues/folk/dub project William Adamson on Brownswood Recordings and most recently collaborated with Emanative and Rocketnumber9 on 2013's "Over" EP.
Alex's career initially revolved around curation – for Soul Jazz Records, Brownswood Recordings and his own label Earnest Endeavours (2010-2014) – and DJing, his "Patchwork" moniker derived from his former crew Patchwork Pirates (2005-2013). Latterly, remixing, re-editing and production took over, and – introduced to Gallagher by Gilles Peterson – the pair began collaborating in 2015.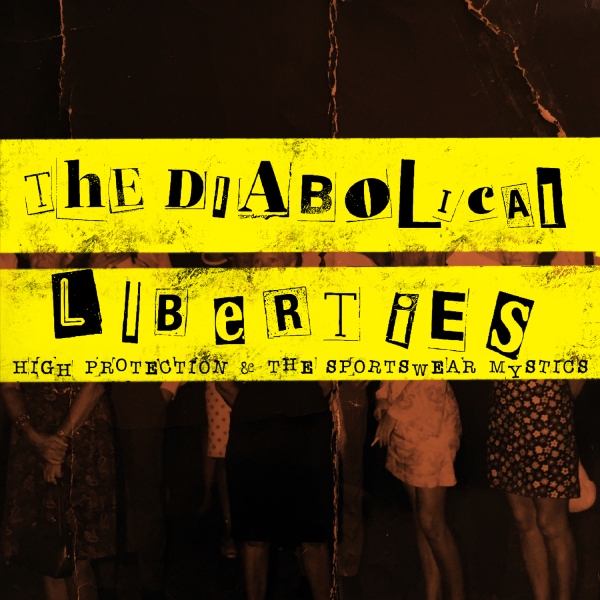 Diabolical Liberties frontman General Rubbish in conversation with Jim Lister for VERSION
Greetings Jim Lister. This is General Rubbish of The Diabolical Liberties. I'm here to speak you through some of the tunes on our new album 'High Protection & The Sportswear Mystics'.
So lyrically what underpins the thoughts behind 'High Protection & The Sportswear Mystics' is the prevalence of the internet and what it means for our consciousnesses, and how it's changing our behaviours?
'High Protection' is maybe our humanity and what's actually gonna stop us from going whole hog into changing completely what we are. At the moment the internet is definitely having some major upside down effects, and maybe we're not quite equipped to deal with it.
There was a great YouTube clip of David Bowie that was posted recently, in an interview with Jeremy Paxman from about 20 years ago. Bowie's going on about how the internet is going to completely revolutionise and change our consciousness and everything about us. And Paxman was like 'Well surely it's just about selling things and communication', and Bowie was 'No No…'. So I guess I'm coming off that and the fascination in how it's changing us for good and bad.
The 'High Protection' bit is, I think, maybe that the young are dealing with it, because they're digital natives, they've grown up with it, maybe better than the old, but that remains to be seen.
And 'The Sportswear Mystics'… well, you all know Sportswear Mystics.
The first tune is 'Bigger Than You'… a Ghanaian influenced tune. I was going through a Ghanaian influenced period of writing stuff and I came across the album that got reissued by Soundway called 'Rob', so I thought that was a sign. And then I found the cover and it's him with his shirt off, in a big cowboy hat, wearing some flares with a good tache. So I thought maybe I should redo that and do a version of the cover as well and do all the different tunes and then put it out as… 'Rob'. But I decided against that anyway, but got this tune out of that session.
'High Protection' is probably the most Don Cherry influenced track. Although, Don Cherry is all over the album, kind of from his early 70s stuff, into the 80s, and then he's playing with Rip, Rig & Panic. So he mixes up the whole thing… from spiritual jazz… going into the whole punk funk… going into the kind of mash-up of the early 80s. He provides that trajectory. Emma-Jean Thackray came on, that was lovely to have her on it and she really got it. You didn't really have to explain to her, she knew exactly what we were after.
'Sliders' features Ignacio, who plays sax with King Krule. It's an ode to the ubiquitous rubberised footwear of choice. I have my name biro'ed on mine. They're completely un-biodegradable, so they're going to be with us for the rest of time. So if there is the nuclear configuration… then it's cockroaches and sliders. So I decided they deserved a tune all for themselves.
'Dancing Out Of My Modern Mind'… I guess that's quite James Chance influenced. We actually tried to get him on sax, he was playing Hackney around the beginning of the year, but I think Lockdown came in and scuppered that particular little jaunt. But yeah it's going down those avenues of your punk funk… which you know well Jim Lister.
'Rude Boys in Outa Space'… that will be lyrically definitely getting my kids in from the cage, playing football when they should be eating their dinner, or something equally as mundane, and looking into their phones. So what are they building in there? They're building something that we'll find out… they're the future so it must be alright. So that's lyrically, and obviously Dub is the glue that holds the universe together. They haven't quite proved that scientifically, but I'm sure it's only a matter of time.
'Then We Were Money'… is musically definitely tipping our large sombreros towards On The Corner Records, and what they're doing over in New York. We're big fans of that, and lyrically I guess it's riffing off the kind of Paul Mason 'First they bought up the deserts and now they're inside your head' kind of lyric.
'Fix My Battery'… musically coming off some obscure Brazilian tunes, and they just hit that groove, love that. You just nod along and off you go. So it's kind of a homage to that. And, obviously, if we can fix the battery problem, we move into the new green dawn. But until we can get the renewables onto batteries, we're struggling a bit. And obviously it's also outside the phone shop, looking at the man.. 'How much to fix the battery? The phone works, but the battery's gone. How much? Do it for £30? Alright.. £32'.
So that's a quick run through of the tunes on 'High Protection & The Sportswear Mystics', which came out on 13th of November on On The Corner Records
The album is kind of inspired as well by Rupert Clervaux and his album on Whities. And obviously Jah Wobble, who's a bit like Don Cherry for me, he just straddles all the various musics. Dub is the clue to always help you come through… Bullwackies… anything on Wackies early 80s… Wayne Jarrett. I was listening actually to a good Mad Professor album with lots of his different dubs on it. I'm quite into that early 70s funk too… like Inner City Review.
It's all mixed up, as always. Everything's in there… somewhere.