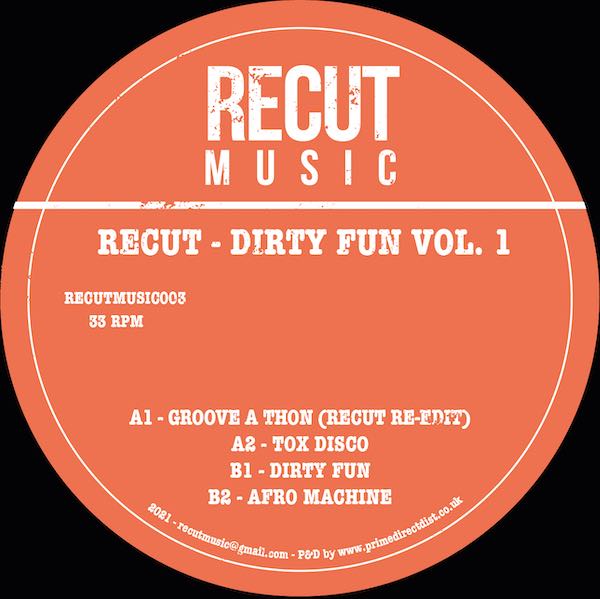 Relative newcomer Recut Music wasted no time generating serious measures of heat with their two previous disco-fuelled releases, and the latest four-track instalment, as expected, represents nothing less than a dance-floor guarantee.
On the controls once again is the mysterious but eminently talented one they call Recut – a recently adopted and delightfully enigmatic moniker of an already well-established producer who's clearly enjoying the freedom his new anonymity brings. Fans of the label will know approximately what to expect – well-crafted and floor-filling disco/house dubs that are aimed squarely at the DJ.
Opening cut 'Groove a Thon' sees Recut work his magic on Isaac Hayes' 1976 classic to stunning effect, beefing up the bottom end bump to maximise the bass power while expertly reworking the arrangement to allow the horns, guitar chops and flanged groove free rein to energise the floor.
Meanwhile, rolling funk is embellished by Recut's limber scratches on 'Tox Disco', making use of ultra-infectious slap bass, heavenly strings and compelling drum fills to grind, pop and gyrate over six gloriously funk-flecked minutes.
On the flip, 'Dirty Fun' strips things back just a touch, with syncopated reggae stabs and dubbed-out delay explosions forging a saucer-eyed psychedelic joyride that meanders and mesmerises over heavy-duty bass.
Completing an excellent quartet is 'Afro Machine', whose tripped-out textures and haunting chants evolve patiently over a slick percussive groove, with delayed piano licks and dramatic stabs dancing over deep bass and laser-tight drums.
Release number three is sure to further cement Recut Music's growing reputation as a series that club-minded connoisseurs simply can't ignore. Pure, unadulterated fire.
Buy at Juno Records