1BTN's Ian Lawton traces the genesis of New York, Jazz-Funk band Defunkt and their underrated album 'Thermonuclear Sweat'
(Pic: Joe Bowie & John Mulkerin copyright Ian Lawton)
The first time I heard the the term 'Jazz-Funk' was in connection with Level 42. As a kid weaned on punk and 2-Tone, Level 42 didn't have much to recommend themselves to me – bad hair, bad clothes and a cheesy sound. I was turned on to The Pop Group and A Certain Ratio and their versions of Funk, but this I couldn't countenance. Defunkt were the band that made some sense of the idea for me.
The first time I heard Defunkt was in the backroom of a pub called the Hope & Anchor in Coventry. it was about the size of my living room but it was the coolest place to go in an otherwise, by then, pretty unexciting city to find yourself, especially since 2 Tone had been co-opted by nazi skinheads. Chris 'Rhythm Doctor' Long was the man behind the decks – Defunkt by Defunkt was one of the tunes that sometimes got an airing, sandwiched between the likes of Prince Charles and the City Beat Band's In the Streets (THE Cov tune of the epoch), Banbarra's Shack Up or The Clash's Rock the Casbah (upon the playing of which the punks in the place would all get up and dance and sing 'fuck the casbah' instead). Most of this was new terrain to me.
I had no idea what the New York scene was about in those days but history has taught me that a good context in which to hear this brilliant recording from Defunkt's first album is on Soul Jazz's 2003 compilation New York Noise (undisputedly one of their classic compilation albums, and there have been many – don't get the 2016 version of the same album it omits several of the best cuts including this one!) where Defunkt rub shoulders with Liquid Liquid, ESG, The Contortions and Konk. I can't imagine we'd have The Rapture, LCD Soundsystem or !!! (Chk Chk Chk) without these pioneers.
Defunkt's charismatic frontman and trombone player Joe Bowie was reared amongst avant-jazz royalty. Growing up in St Louis as one of the younger brothers of trumpet player Lester Bowie he remembers Art Ensemble of Chicago (his brother was a founder member and had moved to the windy city) and Roscoe Mitchell's Art Quartet rehearsing in his house. By age 15, he'd joined St. Louis' Black Artist Group where he studied with saxophonists Julius Hemphill and Oliver Lake. At the age of 19 he moved, with members of that group, to Paris where the Art Ensemble had decamped, and then in 1973 he moved back across the pond and settled in New York where he played with some of the big jazz innovators of the day, including Cecil Taylor, Anthony Braxton and an up and coming Henry Threadgill. He wasn't a musician to be pigeonholed in jazz world though and as the decade progressed his love of James Brown, rock music and an awareness of punk/post-punk brought him in contact with James Chance (leader of the Contortions) and the NY scene with which Defunkt have since become associated. When the Contortions disbanded, Chance asked Bowie to help him form a new band: James White and the Blacks. This backing band became the first lineup of Defunkt."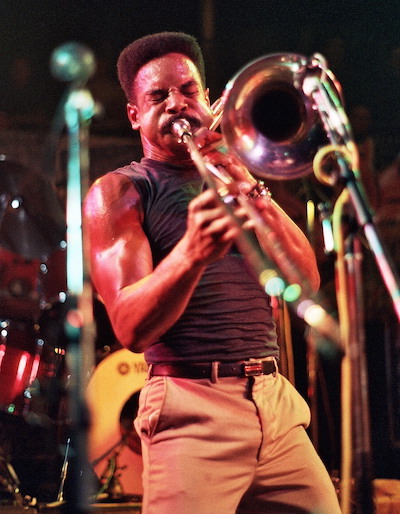 Joe Bowie – Defunkt Frontman
The first album incarnation of the band featured future luminaries Melvin Gibbs on bass and Ronnie Burrage on drums. Gibbs spent most of the 80s Ronald Shannon Jackson's Decoding Society and then played with guitarist Sonny Sharrock, as well as with John Zorn and Bill Frisell. Burrage, another St Louis musician had played with Lester Bowie and went on to play with Arthur Blythe, Andrew Hill, Jackie McLean, and McCoy Tyner. Guitarist Kelvyn Bell, who would stay on board, also played with Bowie and Blythe and later with the likes of Steve Coleman and Marc Ribot (of Tom Waits fame). Just following the trajectory of various Defunkt musicians led me to much interesting listening.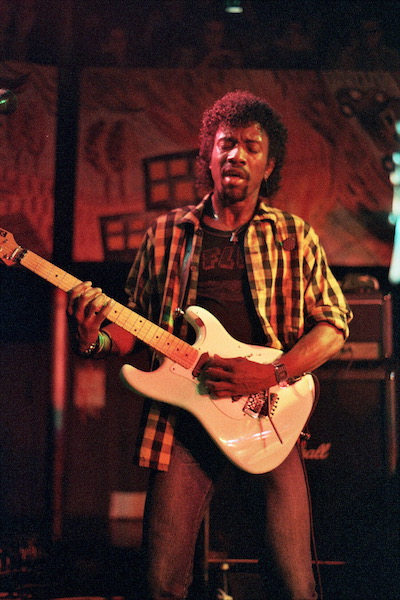 Ronny Drayton (touring guitarist, a regular James Blood Ulmer sideman)
Anyway, boom! Next release from Defunkt was the killer Razor's Edge 12" in 1982, perhaps their definitive cut, a nearly 10 minute funk groove that brings to mind some of Gil Scott Heron's funkier workouts and in sentiment is twin to The Message's "Don't push me, I'm close to the edge" that came out the same year – first-person New York street realism about drugs, hustling and barely keeping your head above water. "I gave up a lot but I wont give in" runs the refrain, penned by Hungarian playwright Janos Gat.
I cannot recommend this record highly enough to you. This second incarnation of the band plays like their lives depend on it. The horn section soars (it includes on this occasion Lester Bowie, as well as other brother Byron on sax, who had arranged the first album), Bell lets loose wild metallic James Blood Ulmer-esque modal guitar lines, and the brilliant Kim Clarke, a new recruit, lays down a relentless bass groove of the kind that would become familiar with her as part of the rhythm section for Thermonuclear Sweat. A lovely Neville Brody sleeve suggests that record label Hannibal had high hopes for Defunkt, hopes that would soon be dashed.
In an interview with JazzTimes in 2016 Bowie described the band's power as "the Voodoo." "This is something a lot of the jazz cats miss. The rhythm-and-blues and the funk musicians know it. It's the use of repetition. These bass and drum rhythms create a trance. That's the Voodoo. A horn player can play whatever he wants on top. Once we get in that state of Voodoo, the audience is hypnotized."
Defunkt's brilliant second album Thermocuclear Sweat, which arrived in 1982, was soon to work it's voodoo on me. On it the band developed the sound that had coalesced on Razor's Edge. The core band remained the same apart from the arrival of Kenny Martin at the drum kit and they are firing on all cylinders across eight cuts. A couple of jazz standards, Charlie Parker's Au Privave and the Kenny Dorham/Joe Henderson tune Blue Bossa, break up a set of breakneck jazz funk jams including a couple of their best known cuts Avoid the Funk and Illusion. A cover of the Gamble & Huff O'jays tune For the Love of Money provide perfect raw material for the band – so much of this record, as with Razor's Edge, is pregnant with disillusion and heavy with the inner city blues. Guitarist Vernon Reid, of Living Colour fame, another Ronald Shannon Jackson cohort, is a notable guest and throws in some almost heavy metal guitar licks on several tracks.
Live, they were ferocious. You can get an idea of what they are all about is from this UK TV appearance from the early 80s. I had a copy on VHS and used to watch it endlessly, mainly marvelling over Kim Clarke's bass playing (all cool female bass players were called Kim in the 1980s). There's some great close ups of her right hand technique – shame that we cant see what her left hand is doing, but by the often woeful standards of a lot of live music filming I was grateful that someone thought it worthwhile to point a camera at her hands at all.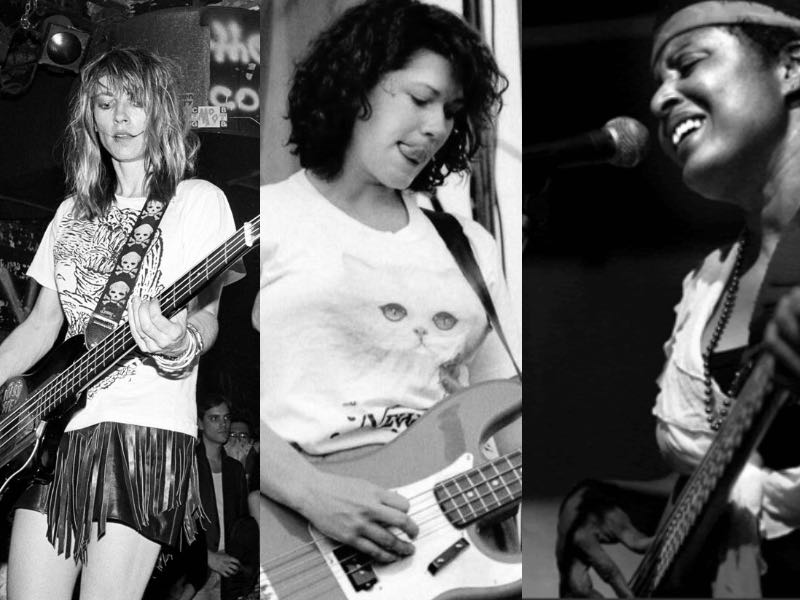 The Holy Trinity of 80s bass playing Kims: Kim Gordon (Sonic Youth), Kim Deal (Pixies), Kim Clarke (Defunkt)
In 1983 or 1984 a friend and I made the trek down to Deptford Albany Empire to watch the band, which proved to be one of those bold gig going decisions that you're forever glad about. I'd just acquired an SLR camera and took my first live photos of a band. It was a good place to start, taking photos of Joe Bowie was a cinch – all dripping (thermonuclear) sweat and Dizzy Gillespie cheeks and paranoid eyes. Unfortunately those paranoid eyes weren't just a role play. Bowie was by this stage heavily into hard drugs and eventually was sent to rehab in the Caribbean at Lester Bowie's expense. Being a drug fuelled channel for the urban zeitgeist can make for good art but it takes its toll on the artist and eventually on the creative process (see also Gil Scott Heron). We had to wait six years before another Defunkt album, In America, and when it came it disappointingly demonstrated that they'd lost some of their edge. The first two albums and the Razor Edge 12" are the definitive cuts, and I still wonder why they have never been accorded the status they deserve (you can get both for under a fiver on discogs). Perhaps because they fell between genres, perhaps because, despite being funky, they aren't really DJ fodder.
Defunkt still occasionally tour and Bowie continues to collaborate in several projects. He has been living in the Netherlands since the early noughties and has become a buddhist.
Ian Lawton presents Trainspotters on 1BTN, fortnightly Monday mornings. Twitter: @mrianlawton Insta: @mrianlawton