For two decades Leftfoot has flown the flag for the best in club and live music events. A Leftfoot night is one where you can expect to hear everything from dub to disco, Brazilian to balearic, house to hip-hop and just for good measure; soul, jazz, techno, reggae, latin, afrobeat and drum n bass. It's always been a space and a place for across the board, underground music with no boundaries and where a loyal and open-minded crowd creates a special atmosphere.
Just a cursory glance of the roll-call of some of DJs and live performers who have graced the Leftfoot decks and stage over the last 20 years probably tells you all you need know; Gilles Peterson, Mr Scruff, Carl Craig, Floating Points, Horse Meat Disco, Quantic, Bonobo, Youngblood Brass Band, TY, Mount Kimbie, Hiatus Kaiyote, Ghostpoet, Gregory Porter, Zero 7, Roy Ayers and Portico Quartet. Gilles Peterson and Mr Scruff remain two of its most regular performers and biggest devotees.
After quickly becoming a Midlands institution at the Medicine Bar in Birmingham, Leftfoot became a national one when it was voted Best Clubnight at Peterson's Worldwide Awards in 2003. In 2008, it moved to the more intimate surroundings of the Hare & Hounds in the Kings Heath area of the city. The venue, like many others across the country has been shut since March as a result of the Covid pandemic in a year when Leftfoot was due to celebrate its 20th anniversary in style with a number of events.
IBTN's Joel Essex caught up with Adam Regan, Leftfoot co-founder, DJ, owner of the Hare & Hounds and one of the best, most respected (and nicest) promoters in the game to reminisce and celebrate the last 20 years, chat about the huge challenges facing the independent club and live music scene and discuss the joy of lockdown kitchen discos.
JE: So Adam, how are you and how are you coping in these strange and very challenging times?
AR: I'm doing pretty good considering the concern over the imminent implosion of the whole industry! I think like many others, I've quite enjoyed the pace of life and a bit of space and time to think and do different things and to look after myself. Obviously, there's been huge uncertainly and ups and downs but I would say overall, now we've got the funding from the Arts Council as part of the Cultural Recovery Fund and a bit of breathing space, I feel pretty good and pretty positive.
JE: As a promoter, independent music venue owner and a DJ, how has the last six months been?
AR: I guess I don't DJ as much as I used to, but I was still kind of probably playing up to four times a month, either at my own events or as a guest DJ at other events. I did actually bring a DJ setup back from the Hare & Hounds and set it up in my front room with the idea to teach my kids how to DJ. My son showed interest for about two days but my oldest daughter decided to do kitchen discos online on Zoom and Facebook live, during the first lockdown when people weren't allowed to go anywhere. We borrowed some lights and a smoke machine and set up a little club in the kitchen and she loved it. They were really popular – we had a lot of friends and family joining in.
But in terms of my own DJ'ing, I wasn't buying any music so that obviously means you're going to go back into your collection and listen to things. I realised that for me DJ'ing is all about having a crowd. It could be a chilled crowd, it could be a dance floor, but it's having that connection that's really important. And it's very hard to find any connection when you're just sitting in your front room playing music. I'd rather just listen to music when I'm on my own.
I have done one event at Lab 11 in Birmingham. That was with Danielle Moore from Crazy P and Matt Beck [fellow Leftfoot DJ] and it was good fun. It's a big space that would have normally been for about 1,000 people raving and they'd got about 120 people seated. It was nice to DJ and feel a bit of a connection. Obviously, it's not the same as playing normally and in front of 1,000 people. It's a very different environment, but it was good fun and good to be out. I think we're probably looking to do a few more of those if we can.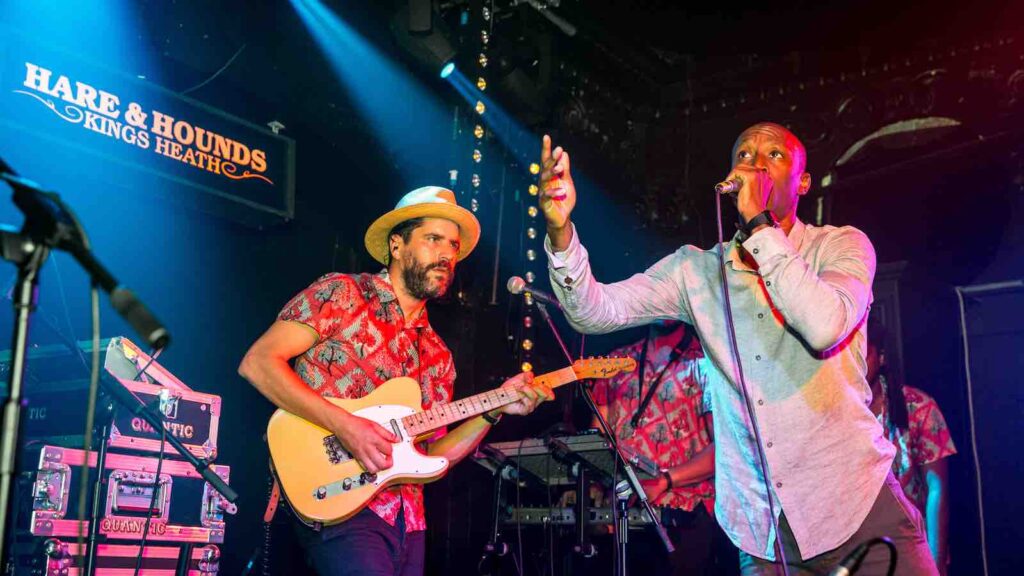 Quantic, Hare & Hounds
JE: It's been a strange time for music and perhaps a time when people have had more time and space to listen more. Has that been the case for you?
AR: Yes and overall musically, I think I have just gone deeper and deeper into finding music that I didn't know and listening to other people's mixes and playlists.
Spotify, for all its evils, is a pretty good tool for getting lost in music, so we started compiling a playlist and I started the first one with DJ Dick, who was my original partner in Leftfoot and also people like Steve Cobby and we all just started to throw music into this playlist. It was good fun and before we knew it we had around 1,500 tunes on there.
That also started a whole kind of conversation with other people about playlists. I posted something on Facebook and other people started posting their playlists and it has been a really nice time to investigate and to discover music, whether new or old.
I'll be honest with you, one of the highlights has been Luke Unabomber's shows on Worldwide FM. He's somebody I've always really liked and respected so I knew the music was going to be great, but the fact that he decided to tell stories from the 80's onwards made it really, really interesting as well. He's just got a way with words and a real kind of charm. He's very real, there's no bullshit with Luke at all.
I also had the staples, people that I always listened to like Gilles, with his top 20 shows in the morning. It was really nice to wake up and get a notification on Facebook and there's Gilles in his basement playing his 20 favourite, spiritual jazz tunes or broken beat tunes or whatever. So, I think if you're a music fan, and you're a music head and it's been part of your life, lockdown is just going to take that emphasis away from the live performance and the clubs and the DJs and it's going to take you in a different direction, which is obviously online.
Lockdown probably isn't going to be remembered as a golden period for music in terms of shows, but I think a lot will come from it creatively and people will have gained lot of knowledge about music. I think people have realised the importance of sharing music. It's the essence of humanity and it's not just music, it's any art really. We want to feel connected to other people and music is an amazing way to do that.
I think my taste over these last months has gone virtually horizontal. I've been listening to a lot of ambient stuff, a lot of spiritual jazz, a lot of classical, Nils Frahm type stuff. That's definitely where my head is at musically. Overall I feel really positive about music. I feel like this period has just cemented my relationship with it really. It's the most important thing to me without a shadow of a doubt.
JE: Of course this year was set to be a big one for Leftfoot and celebrating its 20th anniversary. It has been an incredible success story but when did you first have the idea for the night and who was involved?
AR: From 1995 to about 1997 I was working as the Assistant Manager of the Medicine Bar and we'd been programming a lot of music events. We did an event called Summer Madness and we'd been booking people like Nightmares on Wax, LTJ Bukem, Fabio and the Ballistic Brothers – it was a great time.
I left my job there and went travelling for a bit and then came back and started playing football regularly with DJ Dick, who at the time was running Different Drummer (a record label and collective of DJ's and producers) and he asked me if I wanted to help him with the label. It was something that I'd always wanted to be involved with, and as DJ and promoter it was a dream job for me.
Glynn, Dick's music partner, had moved down south and didn't really want to be involved in touring DJ shows and Dick was still getting offered loads of shows as part of festivals and clubs in Europe. He said to the agent that was booking all the shows for us that he was going to put a different group together.
He still wanted to do the kind of semi sort of sound system vibe with effects and with a reggae MC so we started Different Drummer Sound System, which was Dick DJ'ing, and myself with one of us also doing a kind of space echo and effects and samples alongside an MC. We went off and did loads of shows and it was an amazing time. I was playing some of the best clubs and festivals in Europe and it was a really eye opening time for me. I'd only really DJ'd in Birmingham and played a few times in Ibiza so it was like 'wow'. In Europe, you get treated really well, the sound systems were incredible, the clubs would be incredible and the crowds would be really knowledgeable and open minded.
We were just having these amazing times and there was nothing really going on in Birmingham at the time that we felt reflected what we were doing in Europe. So, we thought let's start a night in Birmingham and the Medicine Bar was transforming from what was essentially a bar to a club and we ended up doing the first night with Keb Darge who had done some really good deep funk and soul compilations at the time.
JE: Do you have any particular memories of that first Leftfoot event?
AR: I remember it really well actually because Keb Darge is a real character. We went to pick him up from the station in the car and we were thinking 'right, let's kind of go along the lines of how we've been treated in Europe'. So we asked him where he would like to eat as we had thought of a few restaurant options but he just wanted a Burger King! As we pulled out of the station, a big Landrover with blacked out windows cut us up and there were loads of horns beeping. Keb just wanted to jump out at the lights and fight the guy in the other car!
It was quite a mad start, but he was just a really lovely, fascinating guy and played a brilliant set. I think we went for curry afterwards and he stayed at my house because that was the way it was done back then. I remember getting back to my house and he had a little box of seven inches and he wouldn't let it leave his side. So he slept with it. I think he had his hand on it while he was in bed. There were obviously some very valuable records in there, but yeah it was a great first night and it definitely felt like the start of something good.
It just grew and grew and was just such good fun. We ended up booking a lot of people that we had contacts with from Europe like Jazzanova, Rainer Truby and Kruder and Dorfmeister and a lot of people from the UK as well.
JE: I was living in Birmingham at the time and it definitely felt the city was ripe and ready for something like Leftfoot
AR: Yeah, it felt it felt like a really good moment in time. We played different types of music, but they all seemed to go quite hand in hand. We would play everything from dub, soul, funk, going into kind of Afrobeat, Brazilian, disco, house, through to techno and drum n bass and then the whole kind of broken beat, new jazz thing happened. It just felt like a really good time for music.
Dick and I didn't just want to do a party night, where you play the same old party tunes and everybody's there to chat up girls and get drunk. We wanted to do something that was a bit more about the love for music and exploring new sounds and celebrating old ones.
There was a lot of what would be classed eclectic nights at the time. I don't really like the word eclectic but I often felt they were a bit all over the shop. To do an eclectic set well takes skill you don't necessarily have to be mixing every track because you can't go from, a hip hop track to a house track, beat mixing but it is about the flow of the night. It made me realise that DJ'ing was about so much to do with the programming and the timing of when you play stuff and when the mood is right, to change it and drop it down.
It was a golden era for sure and was something I look back on with real fondness. Although I'd been a DJ for quite a number of years before that, I think between 2002 to 2005 I felt I was kind of happy to go out and play with anyone really. It was a brilliant thing to do and DJ with people like Jazzanova, Mr Scruff and Carl Craig. It was just always an education for me.
JE: One of the joys of having this chat with you is being able to bathe in a bit of nostalgia and reminisce about some of those Leftfoot nights from the last 20 years. Are there any that stand out in particular?
AR: Whenever I'm asked this question, I generally tend to talk about the one night that just blew my mind, which is when we put Lee Scratch Perry on. Obviously he is such a legend and such a character that it was just mind blowing, but there were so many nights throughout that period, it just seemed to keep getting better.
You'd have an amazing night with Scruff and then you'd have an amazing night with Nightmares On Wax and then have an amazing night with Steve Cobby. It just seemed to get stronger to the point where we were getting 800 people plus every month and it didn't necessarily have to be a huge name. You could get somebody a bit more underground and still be hitting really good numbers so it just felt like people bought into it as a concept.
Mr Scruff has obviously has been a huge part of what we do. I booked him before Leftfoot at the Canal Club in Wolverhampton and again he came back and stayed at my house and we just got on really, really well. He's hilariously funny and silly, and enjoys doing all the things that I do at after parties and we have become really good friends ever since. There's been so many of those gigs with him where he's played to hardly anyone through to selling out the Medicine Bar on Bank Holiday Sunday's with 1,500 people. Those shows were just phenomenal – brilliant atmosphere and brilliant people who would come from all over and he would always rock it.
Gilles [Peterson] has obviously played a massive part in it as well. The first time we booked him was when Radio 1 decided to do One Live in Birmingham, and they broadcast his show live from the Medicine Bar on a Wednesday night. It was just a magical night because it was absolutely rammed on a school night and I remember he came on the mic and said he needed everyone to cheer when the red lights came on as we were going to broadcast live to the world. I just remember the theme music coming on and him saying 'Welcome to the Medicine Bar', and just the noise and the screaming was electric.
JE: Was that quite a seminal moment for Leftfoot?
AR: Oh without a shadow of a doubt because it started a relationship with Gilles, who then became a regular and alongside Mr Scruff is probably somebody I booked more than anybody else. I must have booked Gilles and Scruff over 25 or 30 times and I can't think of better musical guides really, they just totally encapsulate that really free spirit of DJing.
There's been so many magical nights with both of them. Even to this day, Gilles and Scruff come to the Hare [Hare & Hounds] and they're always really fantastic nights and I'm glad that I've still got that relationship with both of them.
JE: What I've always found special about Leftfoot is the live element of it. There aren't many nights that have managed to combine the DJ aspect with the live side. Was that always the intention from the outset or was it something that gradually came in?
AR: No, I don't think that was our intention to start with. I think because I was a DJ and so was Dick, we were very much about putting on a club night. I think the first live show we did was Roots Manuva. I think we put him on, on a Sunday night at the Medicine Bar and it was amazing. It was the time that 'Witness' had come out and it was a golden era for him.
The live stuff just went from there really. We then did a show with TY, who was on Dig Dada as well and had a massive album at the time.
JE: You mentioned TY and whilst it's been rotten year all round, from a musical perspective, his untimely passing has been a particular low point. I think he played a few Leftfoot shows. What are your memories of those shows and of him?
AR: Well, the thing about TY was that obviously, I knew his music but I hadn't met him until he came and played for us. I was very excited and wanted to know about his life and how the album [Upwards, released in 2003] had taken off. He just had this warmth and humanity about him and an aura but in a nice way, not in a kind of diva way. He was just like a big bear. I remember he bowled in and he was giving everybody a hug and was being super friendly.
It was a sold-out show and we sound checked and it was all good fun. Sometimes sound checks can be a bit fraught with tension but it was all really, really easy. They went off to have some dinner, and came back and just did an incredible show and everyone loved it – it was a really magical night.
I was due to go on and DJ after the show and we'd set the decks up in the corner. He went off with the band as I was coming on and when I played the first record he just bowled straight back onto the stage, grabbed the mic, looked at me and said 'do you mind if I…' and I was like 'of course'.
It was a pretty open goal for me as a DJ really, the crowd were well up for it and I shamelessly went straight from this amazing gig into one of the biggest tunes at the time, which was the dub of version of Roots Manuva's Witness and TY just stayed at it for ages. I was playing Afrobeat and hip hop and dancehall and he was just brilliant and it just showed another side to him – completely unrehearsed, totally freestyle, totally loving life and then he just handed the mic back politely and I turned it off.
With that he just jumped into the crowd and was dancing around with all kinds of people. For me, it was just a really beautiful moment because he was a performer that was getting so much respect and love but he was just really very much one of the people and just wanted to be partying with the people and wanting to be just vibing off the club night as much as anybody else who was there.
He was just a really, really lovely, man so yeah, I was really sad to hear that he passed away. I think the amount of love that was shown on social media just shows what a respected and loved man he was. He'll be sorely missed.
JE: You had some amazing Leftfoot shows lined up for the 20th anniversary including Caribou, Bonobo and Oscar Jerome amongst others
AR: Yeah, we managed to get the Moses Boyd show in but that was the last one. The next thing we knew it was March 16th and we were shutting. So yeah, it's been a very surreal year to have your 20th anniversary and I think we've decided that we're just going to try and put everything into our 21st and if that doesn't happen then it will be our 22nd, we're not going anywhere we desperately want to carry on doing what we're doing.
JE: What do you think the future holds for venues like the Hare & Hounds and the scene more broadly?
AR: For the Hare & Hounds we've got that funding that kind of sees us through to March and literally covers our base rate costs, which means we're not going to have to borrow money to stay afloat. It's not a great situation, but we can just get on with it and hope for the best.
However, in terms of the scene, I'm really, really worried about what's going to be left and who's going to be left. A lot of that young talent that was starting to break through, whether they be bands, DJs or promoters, they're not going to survive. It's worrying. You'd like to think it, and I did kind of touch on it earlier, that it is quite a good time creatively so maybe there's going to be a load of new talent developing now because they've got the time to do it. Also, let's be honest a lot of good art comes from challenging times, some of the best music comes out of terrible, terrible times.
You can listen to the full interview with Adam Regan as part of a What's Wrong With Grooving special on Leftfoot and club culture on Wednesday December 2nd between 6pm and 8pm on 1BTN.
Keep up with all the latest news on the Leftfoot Twitter feed and the Hare and Hounds feed.