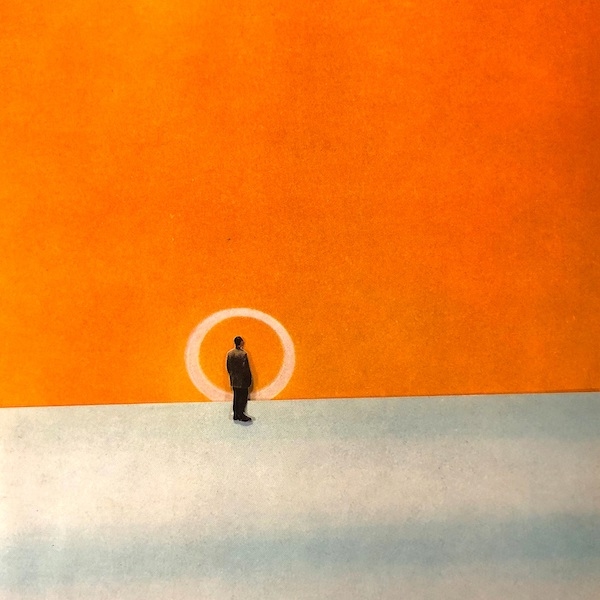 How to turn a moment of worry, uncertainty, and isolation into something of a warm-hearted, creative catalyst? How to build bridges when humanity in its entirety seems caught in the nets of decisively painful crossroads? Written and recorded during the lockdown that has put our civilisations to sleep for the past year, the new album from Third Attempt comes as a much welcome balmy treat to our existentially dreadful times.
Dishing out good vibes in copious amounts, the aptly named 'Beats From The Quarantine' finds Third Attempt doing what he does best, i.e. pushing low-slung trip-hop joints and reframed disco blends on a loungey tip. An idyllic opener, 'Addicted' gets the ball rolling in soothing, dreamy fashion – grooving out to a plush, slap-heavy bounce that'll get your hips swaying and feet shuffling without further ado. Channeling polychromatic urban energies, the sample-heavy 'Front To The Back' then serves up a crisp mix of hip-hop drums, fluttering melodies and nu-age-friendly flights steering us closer to organic sound folds.
A heavily dubbed-out jazzy affair, 'Make It Double' stresses an intricate mixture of brass-laden jamming, wistful piano chords and smokey funk bass, all resounding across a dense haze of FX and subtle textural arrangements that grow deeper as bars pass by. Drifting towards more ethereally soulful heights, the brittle 'Missing Feeling' has us teleported to poetic jazz dreamlands in a snap of the finger. Fusing a solid bass with lush flocks of mischievous woodblocks and otherworldly chimes, the track floats in a zone of its own, just as eerily lavish as it is invitingly emotional.
Fuelled on laid-back trip-hop and vibraphonic kosmische, downtempo chugger 'Please Hold' quietly rides on to greener spiritual pastures, whilst 'Rain' reels out a more aqueous swing – mustering a breezy yet introspective package of sonar-like bloops, luxuriant disco shades and dusky Floridian atmospherics. Upping the tempo drastically, 'Images' keeps the feels pouring but tweaks the whole into a further hectic acid-drenched second half. Tapping into traditional Hindu motifs, 'Mirage' is a deeper-than-deep mystic trip, catching its listener in hypnotic webs of sitar-imbued harmonics.
Breathable to the fullest, 'Air' eases us in moody balearic jazz territories again through finely woven flights of languid trumpets and polychromatic pads, paying a nice tribute to the late José Padilla's evergreen melodic touch. One to curl up and drift off to, closing cut 'Cocoon' wraps us in warm layers of piano and synth-strewn accordance, fitting somewhere between the prismatic beauty of Aphex Twin's Drukqs-ian excursions and further sun-kissed Ibizean magic.
Third Attempt In Conversation With Mickey Duke
Introducing Torje Fagertun Spilde AKA Third Attempt to 1BTN, you may or may not have heard of this 23yr old Norwegian born beatsmith, but he's been putting out top quality low slung , instrumental beats for a few years now and has caught the attention of a number of established artists within the music world. He's got a new album due out to the brilliant Beatservice records and I'm delighted that he's giving some of his time today, how you doing, Torje?
Hello, hello, thanks for giving me some of your time Mickey. I'm doing, ok. Thank you. It's going fine and as well as it can go, you know, with the restrictions and everything. It's very boring, it's lame but you know you got to exploit the time, you got to make some tunes, make some beats and that's exactly what I've been doing, spending time in the studio, preparing for live shows, stuff like that, spending time with family and you know I can't claim because I have been fortunate enough to spend time in my studio and I'm with my good friends, you know, I'm living with my friends in a small like, collective, so social and work wise it's going ok, you know. I'm getting stuff done.
Where about are you?
I'm actually visiting my father right now and he lives in the woods. I'm lucky to have family that lives out of the city, so a quick train ride and I'm surrounded by trees and peaceful noises, you know, rather than loud construction and people screaming outside my window in the middle of Oslo! Laugh Man, it's so loud there. I grew up here, I spent all my high school years here in the woods, so I created a lot of music here, it has a very good and peaceful vibe, you know, it's good for the soul
So, still only 23, how long have you been making beats and what and who influenced your interest to start producing music?
That's a good question. I've been producing beats since I went to middle school so 12 or 13. I watched lots of videos and was very into the rise of EDM, mainstream EDM coming out of the US at that time, you know. Artists like Deadmau5 and Skrillex, I was a teenager, so I had posters of them on my wall! I was very inspired by them until it gradually progressed to more underground sounds. I was listening to more experimental stuff and before I was allowed to take a drink I was exposed to the club scene and then I got some gigs up in Tromsø where I lived for a few years and then it just progressed from there. Now, I just live through the music and I can't stop.
You weren't born in Tromsø?
No, I was born in Oslo but my Mothers side of the family the 'Fagertun' name comes from Tromsø, so I very often spend time there, no matter where I'm living I will visit there and say hello to my family and friends and then I thought "Well, why the hell not?" Check out some Northern Lights, you know, some midnight sun, so I wanted to check out the place for longer, so about 4 years ago I moved there and spent a few years, played gigs, got some residencies and actually, my career got a really good foundation up there. Now I live down in Oslo, so I moved but I often spend time up there, it's a real nice place. Also, Vidar from Beatservice is from there and that's how I got to know him, through the scene. There's a really good club scene up there, you know, people are real friendly and their hearts are in the right place. No ego trips, people are pretty much in the same boat up there, you know, everybody is equally depressed! *laugh* because of the lack of sunlight for like six Months, so yeh, real good vibe in Tromsø, I recommend that people visit there and check the place out, it's great!
I promised my Missus I would take her to see the Northern Lights, so that's where I need to head to, yeh?
Do it! Make sure you take her to a club too after you have finished all the tourist stuff. You will get to know the real Tromsø people in the heart of the city.
Ok, I'll be sure to do that. Just regarding Beatservice records you mentioned there. This is a label I have been introduced to in the last 12 Months or so, a cracking label it is too. How did you hook up with guy that run that, was it just from being out and about?
I sent him a few mails before I actually met him in real life. Tromsø is a real small community, so I had to bump into him eventually. Suddenly, you know, he just shows up at one of my gigs, at one of my live gigs at Insomnia festival in 2017, that's when I think I first met him. That was actually my first live gig before I started Djing. After that he became very interested in what I was doing and he's a great guy, Vidar, he's just a single guy, a one-man band, who runs the show. He put out 'Shoreline' in 2017 and that was my first single and it did quite well actually and after that we just had a solid relationship, a business relationship and now he's a good friend of mine. Check out Beatservice, it's great!
Beatservice sounds like a natural fit for your sound for sure. There's a lovely variation of styles taking in jazz, funk, soul, hip-hop and house and your production is reminiscent of bands like Funki Porcini, Rae & Christian & Thievery Corporation and also reminds me a little of Dj Shadow & DJ Food too, it's got a 90s and 00s feel to it for sure. Is that an era that you are familiar with and if so, did it influence your production style?
I'm glad you asked me this because the sound I have today, I went through a lot of other sounds and aliases before Third Attempt. This sound, like you say, Is very influenced by the 90s and the sound that came out of that era, you know, the trip-hop, the ambient, the raw, soulful, dreamy sampled sound of the 90s, you know, it's unbeatable. It's still getting recycled 20 or 30 years later. Funki Porcini, Dj Shadow and all of these people I listen to. Ninja Tune label is probably my favourite record label of all time, so many great artists. It's unbeatable. I tend to grow really tired of genres, you know, but this trip-hop genre, this downtempo, instrumental hip-hop will never get tired. It was about time I made a record in this style because it was so influential to me and whether I'm making Techno, or House, you know, this stuff is all embedded in my soul. The UK sound, you know, this is why I want to get over there too; I need to see this stuff live. I'm going round with this stuff in my headphones and I need to actually experience this, people coming together and vibing because I have never experienced that. Maybe that's one of the reasons I wanted to create a record like that because no one else is doing it right now, at least not in Norway. It needs more attention.
Listening to your new album it was a real pleasure for me really, it was a little throwback and very reminiscent of that period. The album is due out this week to Beatservice, can you tell me about that?
It's a good vacation from what's going on, that's what it's been for me. It's a nice way of tuning out. I make this music to create an atmosphere that I can get lost in, you know, forget about stuff and create a space that eventually becomes real. That was the idea behind this record, to create a nice bubble of sounds and environment, being able to drift through it and be careless for a while. During the lockdown I wouldn't know what to do without music to be honest; it saved me. I need to feed my soul with everything being closed. There's no clubs open, no movies to go to, nothing. The only thing I have is my laptop and making music, so hopefully this album will take you to another place for a while. It's not only relevant to the lockdown, if you want to take a break, if you want somewhere else to go to you can put on this record and listen through it from A-B. It's a relatively easy listening experience but it takes you through different emotions and feelings, there's some vocal samples in there to put some positive ideas in your head. I think it's a nice ride and I'm looking forward to it.
Yeh recommended, folks. It's a cracker. So, you're Djing too, something that started before production, or did it come after?
Djing is something that came afterwards. When I was 18 or 19 I started playing records and then it gradually progressed into another side of music that I love, being able to feel the music in the moment and expressing myself through people on the dancefloor, it's a real magical thing. Right now though it's nothing. I have to say though that being able to play these mixes and you know, showing up on here it's a real nice opportunity for me and I think that's a really important thing about Djing, it's all about expressing stuff through people and telling a story through music, you know, it's like a collage of tracks. For me it goes quite deep the Djing stuff.
Yeh great. I was just going to come to the fact you have produced a lovely mix for us, what can we expect from that?
The mix is a mixture of the sounds I enjoy, it's more of a listening based mix I would say, its more Downtempo. It's an easy listening mix, gradually increasing in BPM. It goes from Downtempo to more upbeat, house music area. Takes in some ambient and more Nu Jazz type beats. It's a spectre of sounds I've listened to lately and sounds I enjoy. Also, you know, fun fact. The 1st track is mine and the 3rd track Is also mine, so there's some Third Attempt goodness in there too. Everything you need! Laugh
I would have been disappointed if there wasn't any Third Attempt business in there mate! Are there any plans to open things up there? When can you get back out and Dj locally?
That's the big question right now is when is this going to end. We don't know. The vaccine I guess is the life raft for this whole situation. We are all waiting for deliveries and deadlines are being missed and delayed, so it's very difficult to answer right now. You would hope that it would be after the Summer. In Norway we are just 5 million people, so how hard is it. You guys in the UK 50-60 million people over there? You guys are being vaccinated, so what's going on? It's very frustrating but that's a whole different rant! Hopefully the summer, you know, we can get past this and I can get back to live shows, Dj shows, open air stuff. I actually have a gig, an album launch in Tromsø on the 14th May. Also, I have a gig on the 30th April in Oslo, so let's see if that stuff is actually going to happen, or if it's going to be cancelled.
Torje, I would just like to say thank you for your time my friend, it's been lovely chatting to you. Good luck with the new album
Thanks very much, Mickey. Thanks for taking the time to speak with me. I look forward to everything opening again and I look forward to playing some gigs in the UK.
For sure, thanks mate
You can hear the interview and guest mix from Third Attempt on 1BTN on Friday 30th April at 08.30BST
Third Attempt 'Beats From The Quarantine' is released to Beatservice Records on Friday 30th April.
Support the artist, support the label, buy your music! Listen and buy here – https://th1rdattempt.bandcamp.com/album/beats-from-the-quarant