Jalapeno Records, Celebrates 20th Anniversary w/ Two Decades of Funk Fire
One of the UK's leading funk and soul labels, Jalapeno Records, is to celebrate its 20th anniversary with the release of a limited edition ten track 7 inch compilation album box set, Two Decades of Funk Fire, celebrating highlights from the label's illustrious 20 year history.
The compilation will feature 10 seminal tracks from the label's back catalogue, providing a unique snapshot of a label that has quietly established itself as one of the most important funk and soul labels in the UK today. Two Decades of Funk Fire will be released as a 7 inch box set, 20 track digital compilation and CD on November 27, 2020.
From huge album releases by the legendary nu-disco crew Kraak & Smaak to the gospel-infused blues of Izo FitzRoy, to the crisp hip-hop breaks from fun-loving showstoppers The Allergies, to the northern soul of Smoove & Turrell, since its inception in 2000, Jalapeno Records has grown into a label which defies pigeon-holing.
To date, Jalapeno has clocked up over 350 releases from 53 acts, 64 feature artists, 330 remixes, 50 albums, 34 compilations, and spawned four sub-labels. A regular live touring schedule and countless Jalapeno Sound System DJ sets at festivals (they have played every Glastonbury since 2006) have all helped cement their reputation in their 20th year as one of the most important independent labels in British music today.
2020 has been the most successful year yet for the Brighton based independent. While other labels halted release schedules due to the pandemic, Jalapeno has celebrated a No.1 album in the Official Dance Music Charts (Smoove and Turrell's Stratos Bleu) and had their most prolific period to date, with album releases from The Allergies, Izo FitzRoy, Flevans and ephemerals amongst others.
The label is run by Trevor McNamee. Having cut his teeth at BMG, Trevor worked the ranks through Polydor, Jive Records (as Label Manager), then back to BMG (as Marketing Manager), before joining label partners Elliot Ireland and Alex Rizzo (friends from Brighton in the 90s) at Jalapeno Records in 2001. McNamee has since become sole owner of the label while Ireland and Rizzo have gone on to concentrate on making music and production for their library label Pedigree Cuts.
After an extremely busy year of album releases in 2020 Jalapeno Records already has albums lined up for 2021 from Gizelle Smith and The Allergies – there's no slowing down!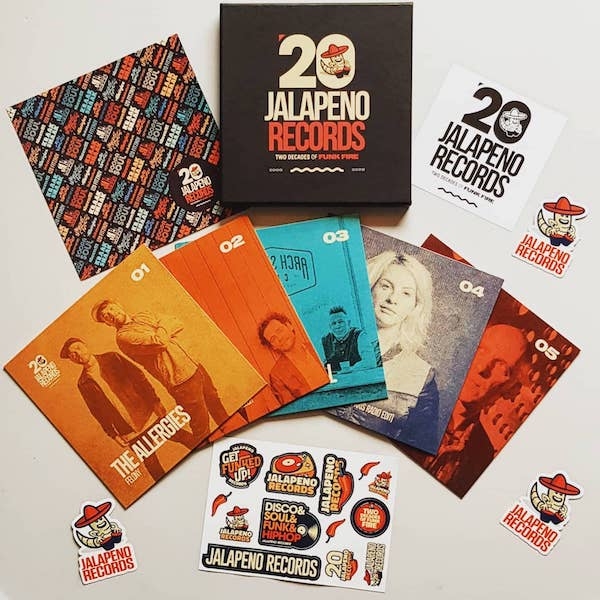 Finger Lickin's Justin Rushmore In Conversation w/ Trevor McNamee
We have the man behind the Jalapeno Records record label and fellow 1BTN presenter, Mr. Trevor McNamee, How you, doing?
I'm doing very well. I'm very good, feeling good.

First of all, congratulations. This is a seriously strong compilation. Like every track's a winner I couldn't decide which tracks to play. They're all so good. So how on earth did you pick from such a huge catalogue of gold?
You know what it was really, really difficult. We all have all personal favorites ones we keep going back to when we are DJ'ing but, in the end, I mean, we just have to look at the catalog. I mean, we've had some of our artists with us for five or six albums, so those ones had to be on there. And then from there we just kind of, kept looking at our favorites and tried to represent all the different types of artists that we've had on the label for 20 years.

I remember meeting you probably 20 years ago on an industrial estate, somewhere in West London, with Elliot and Alex of Skeewiff, and I mean, God, how does time fly? What were you up to before you started working with those guys?
We actually started a label here in Brighton. Well, we started a different label here in Brighton, right back in the early nineties from uni down here. And then we had this very amateurish attempt to running a record label. I put out about five records and quickly worked out that we weren't going to be the new Ninja tunes. I went off and did about seven or eight years working at the majors learning my trade there. And in the meantime, Alex and Elliot were building up their reputation as Skeewiff and Icon. And, yeah, from there it just went on and on.

Staying afloat for 20 years as an independent label, can't be easy. What do you think is the secret recipe? What are the 'Habaneros' you're been shoving in the Jalapeno pot?
The secret recipe, is to give the artist a bit of space to see what it is they want to do. I mean, some of our artists, they don't even like to play anything until it's completely done. Some want to have lots of advice and help. And it just depends from artists to artists, but it's about supporting them and just trying to do as much as we can for them to help them have a career.

You've got some of my favorite artists actually Kraak & Smaak. I think they get the blend between the funk and the housey vibes perfectly and Flevans – loving his new track. The Allergies, of course, Smoove & Turrell, I mean, they're a force to be reckoned with, and they had a number one album as well, didn't they?
They had a number one album during lockdown, which was great, we're 20 years in and we're still having fun. Their new record Status Bleu went to the top of the official dance charts, so that was brilliant. That was a FIRST for them. It was a slightly more electronic album from them than their usual funk & soul style. So I think it was a real kind of justification of, you know, that they'd done the right thing and they'd taken all their fans with them. So, yeah, it was great.

Yeah. Incredible. Well done. I mean, how do you think it is? From 20 years ago when you started to how it is now? Are you're feeling proud of your achievements, do you wish you'd done something different?
I don't necessarily wish I'd done anything different. There's always a few ones that got away, but you know, we're very happy with the roster that we've got. I guess we lived through the bad times. I'm coming round a little bit now for the good times of the record industry. So when we started it was all about selling vinyl and 12 inches, mainly DJ and producer led. And then of course we went through Napster and the digital piracy times. And so, I mean, we kind of lived through a recession and that was in our early days. And now we're back in a different era of the business where people are making good money from streaming and from vinyl sales which are are ridiculous, the biggest sales for years and years. So, you know, I'm feeling pretty confident about the record industry and about keeping going for another 20 years!

Amazing! What you're excited about in terms of releases for the label right now?
Well, obviously we've been building up to this 'Two Decades Of Funk Fire' release for quite a while after that we're back in the new year with a new album, which is Gizelle Smith which is really exciting. And I have already heard a sneak peek of some material from the next Allergies album. And that is going to be really strong as well. And our man Flevans is also working on new material, which is great. I mean, a lot of our long-term artists are just, you know, every year or two years, they're putting out some amazing new material. We just get excited about it all over again.

Yeah, honestly, it is absolutely dominating as a label. I completely love everything that comes out
Well, coming from the man that used to run Finger Lickin', that that means a lot.

We were kicking around this about the same time weren't we? And, I kind of gave up when we hit that Napster recession period of MP3s and no more vinyl, but, you know, I should have carried on really
Yeah. Well, yeah, I think when everybody started deejaying on digital files, CDJ's and Serato it became much more of a choice for them, where they wanted to pay for music a lot. So it was pretty hard, but I guess at the same time, we had already moved a little bit into bands that were recording new and original music and in studios with musicians. So I guess that still helps us over that hump, we weren't just relying on DJ's anymore to carry us through.

Sure. And if people want to get the box set. Which sounds like an absolute must as a Christmas present, where should you buy it? What's the best thing you could do in terms of sticking that in your stocking?
Yeah, the best place to buy it would be from our Bandcamp we're here, packing as we speak. And if you go to www.Jalapenorecords.com, all the links to show up and all our socials are on there, but if you're not in the market, even give it a stream and see if there's something on there you like and just get in touch. We're always happy to hear from you and old fans.

Well, I can vouch for it. It is an absolutely amazing compilation. There are 2010 out of 10 tunes. Really, really good quality artists. Well done, mate. I mean, it takes a lot to keep going through all these sort of ups and downs and particularly during the pandemic to get a number one, sheer quality. Thank you, Trevor

"Jalapeno Records are standing head and shoulders above other independent labels. They give us the creative freedom to express ourselves, which is why we have been with them for over ten years!" – Smoove and Turrell.

"I love Jalapeno Records! One of the big labels to keep the flag of UK funk and soul flying high worldwide. Lively, colourful, and engagingly irreverent are the essential ingredients going into a classic Jalapeno release. Throw into the pot their perfect taste in who they sign and the support they provide to developing their artists and that is why, year after year, they have been responsible for releasing some of the biggest forward thinking funk and soul tunes around from a whole host of outstanding artists such as Smoove & Turrell, The Allergies, Skeewiff, Flevans and many many more! Thankyou Jalapeno for doing what you do so well!" – Craig Charles, Craig Charles Funk and Soul Show, BBC 6 Music

https://jalapenorecords.bandcamp.com/