The Cold Moon
As with many full moons, The Cold Moon gets his name from Native American Tribes, which used moons as ways to track seasons. The Cold Moon is a Mohawk name that reflects the type of chilly weather typical in December. The Cold Moon will be visble between 29th & 31st of Dec.
Rather fortuitously this event just so happens to coincide with a 3 day radio event, we here at 1BTN HQ were planning, so then, what better way to celebrate?!
1BTN presents The Carnival Of The Cold Moon.
3 days of music featuring a myriad of musical styles and – as always – a fabulous line up including some of our lovely resident selectors, in amongst a selection of wonderful, talented guests. Here we go!


TUE 29TH DEC – A SPACED ODDYSEY
A celebration of the wonky world of offbeat alt-pop, spacey 4/4, Balearic and other leftfield oddities.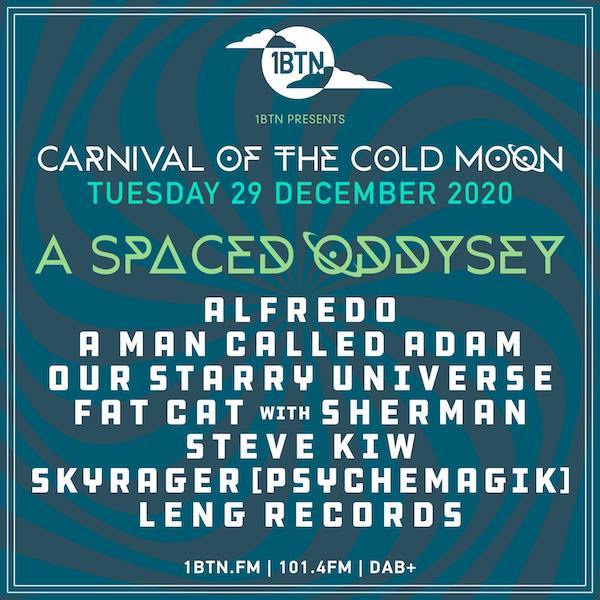 ALFREDO
Ibizan based Argentinian, Balearic legend and all round lovely soul. Alfredo's story has been told through the words of all who he has inspired, since his days as a resident at Amnesia in the 70's and it's a story which continues to be told up to the present day. Credited as the 'father of the Balearic beat' Alfredo continues to spin and inspire, and remains as in-demand now as he was 40 years ago.

A MAN CALLED ADAM
A Man Called Adam (AMCA) are Sally Rodgers and Steve Jones. Veterans of the UK scene they are regarded as pivotal in the development of the electronic music world. From their early beginnings as an Acid Jazz band through their more recognisable lush and blissed out Balearic sounds, the super talented duo are still producing incredible music. Described as "Britain's unsung pop heroes" by the ever on-the-money music blog 'Test Pressing' AMCA remain an important and relevant production team.

FAT CAT RECORDS FT. SHERMAN
Since their inception during the mid 90's, Fat Cat have been and still are one of the most influential independent record labels in the World. Based on these fine Brightonian shores the label's output reaches into many styles including experimental rock, electronica, psychedelic folk, contemporary classical, noise and post-punk. Fat Cat Records head honcho, Alex Knight, is joined by
DJ, Writer, Remixer, Graham Sherman. In his guise of 'Sherman At The Controls' in the early 1990's, he single handedly got the NME to write about dance music, championing the likes of The Orb, Andrew Weatherall, The Black Dog and Aphex Twin. As one half of Euphoria, Sherman was signed to London's Guerilla Records, whose releases were amongst the first to be termed "Progressive House". His own label Cloak And Dagger Records released darker, more leftfield sounds.

LENG RECORDS
Leng Records is run by Simon Purnell and Paul 'Mudd' Murphy out of London. For the last 10 years Leng have developed a rosta of highly respected producers and DJ's that represent the labels approach to releasing quality music without restriction. Since launching at the dawn of the decade the label has risen to become one of the most consistent nu disco labels around, with a trademark style that cannily combines chugging grooves, dub disco rhythms, and clear West Coast psychedelic rock and contemporary Balearic gold. The recent 10 year celebratory compilation featuring a mixture of historic tracks, overlooked gems, inspired remixes and previously unheard exclusives.

OUR STARRY UNIVERSE
It was actually 2019, which saw the release of the debut record for Our Starry Universe records. Founded by NYC veterans Dj's and producers, Tim Wagner, Tommy Castro & Chad 'Chicus' Snyder. That first release was by 'A Separate Reality' a collaborative project between Tim and fellow NYC producer, Nick Chacona. 2020 then saw a release of a 6-track album by the duo, which presented 'a 35 minute journey into a world where psych-tinged cosmic flirts with Balearic chug while downing jazz laced with dub'. Indeed. This was quickly followed up by the debut single for Brooklyn duo, Birds Of Pandaemonium called 'Days Go By'. Expect more Cosmic, Psychedelic and Balearic Jams from A Separate Reality & other artists on the OSU label in the new year.

SKYRAGER (PSYCHEMAGIK)
UK DJ / producer duo Psychemagik are Thomas Coveney & Danny McLewin (Skyrager). They are known for their sensational disco and psychedelic edits, obscenely vast record collections, beautiful production work and transcendent mixtape journeys are heralded as a truly unique and positive presence in today's music scene. Their mixes paint the story of two extraordinarily talented and passionate guys. Some blatantly show that Psychemagik can absolutely dominate a dancefloor. Others, are gorgeously composed psychedelic experiences, which give you an idea of just how deep and amazing their record collections really are. Basically, you can bet that they have the perfect record for any time and any place. The duo are two of the most respected Dj's, producers, diggers and compilers within the music world.

STEVE KIW
1BTN resident, co-founder of collective 'Balearic Assassins Of Love, all round lovely boy, Steve KIW, is another veteran DJ and digger. On top of BAOL duties, Steve, is the Xavi half of Andres y Xavi, a Balearic beat combo under the direction of fellow 1BTN's presenter and musician maestro, Glenn Fallows.
Steve has a very enviable record collection taking in a multitude of styles & tempo's, which you can hear weekly on his 1BTN radio show.


WED 30TH DEC – THE MOON IS A DISCO BALL
Straight up disco, darling! Fabulous gltter ballesque happenings guaranteed to have you high kicking and spinning your way through the day!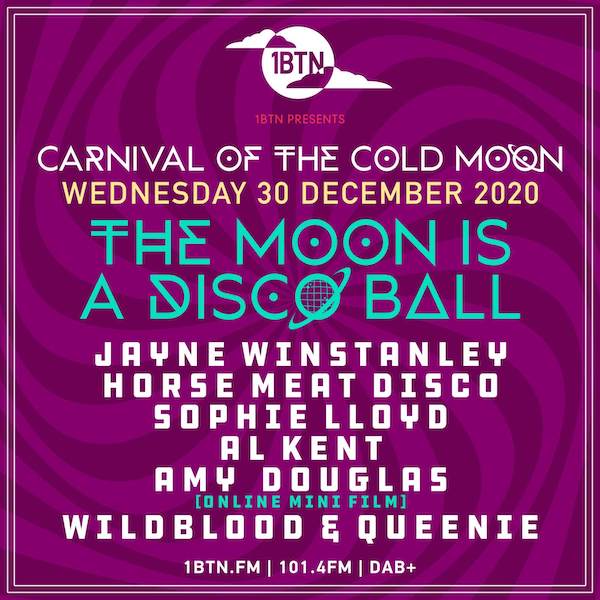 AMY DOUGLAS (SHORT FILM)
What a 2020 one of our favourite Brooklynite has had! 2019 saw the wheels in motion for the Amy Douglas juggernaut but all things considered this crazy year has seen a lot of Amy's hard work finally paying itself forward. Amy saw her own productions and a multitude of collaborations come to fruition, with the likes of Man Power, Michael The Lion, Low Steppa & Body Music putting out tracks featuring Amy's powerhouse vocals. Throw in songwriting credits for a track on Roisin Murphy's explosive chart topping album 'Roisin Machine' and no fewer than 4 tracks on Horse Meat Disco' excellent 'Love And Dancing' LP then you see know year has seen Amy Douglas rise high above most of the dance music world's glitterati, while keeping it very East Coast real.

AL KENT
Al Kent was born in Scotland and in 1976 Al ran away from home to live in New York. Here, at the age of 8 he started attending the Loft and hanging out with Nicky Siano and a whole bunch of cool New York DJs with Italian names. In 1978 he was arrested for possession of PCP while guesting at Better Days with Tee Scott and deported back to Glasgow, where Al opened his own club in Glasgow, based on his experiences in New York. With his pocket money he flew Richard Long over to kit it out and had Walter Gibbons DJ at the opening party. Since then he's bought lots of records, done the deejaying in lots of places, and recorded an orchestra too; for the full story of 'The Million Dollar Orchestra' Google is your friend, in short the album was recorded in the traditional way, mostly one take, in an analogue studio. The Sound is rich, lush, string laden, beautiful disco music, full of joy with phenomenal musicianship. It is Al Kent's biography told in Music. A re-edit master, serious digger and a killer selector.

HORSE MEAT DISCO
Since its humble beginnings in 2003 Horse Meat Disco has become an institution on both sides of the sexual divide due in large part to its dedication and appreciation to Disco music in all its forms. The brainchild of James Hillard and Jim Stanton via the inspiration of New York nightlife legend Adam Goldstone (RIP) the idea was to create an alternative party that harped back to the halcyon days of parties like The Loft and The Gallery in New York whilst at the same time adapting it for a London crowd. Horse Meat Disco consolidated its disco credentials by inviting some of the best DJ talent to grace the decks at the club. Past guests have included the likes of Dimitri From Paris, Derrick Carter, Daniele Baldelli, James Murphy, Prins Thomas, Todd Terje, Tim Sweeney, Lady Miss Kier, Luke Unabomber & Maurice Fulton to name but a few. 2020 saw the release of the acclaimed debut full length album 'Love and Dancing' and the HMD train sees no sign of slowing down!

JAYNE WINSTANLEY
Our Jayne has a rich heritage as a selector and a promoter, going back to her days as music curator for Keele university during the 90's. A well respected and revered Dj, Jayne is at home mixing up minimal ambient as she is dropping heavenly disco, jump up 4/4, or unknown pop B-sides. A guest at many club nights, festivals and parties, this lady knows how to work a dancefloor! Donning her disco hat for today you just need be sure to crank the volume high and prepare for a workout.

SOPHIE LLOYD
Ex-Brightonian, Sophie, defected to London for 20 years, but recently found her way back. She started DJing as a hobby in Brighton while she was a student, competitively digging for disco records at the old Sunday morning boot fair outside the station. The hobby soon became an obsession, and the obsession became a full time job. Sophie has spent the past 20 years playing records in nightclubs, festivals, members clubs, weddings, corporate events all around the world. In 2019 Sophie released her follow up single 'Raise Me Up' which saw her re-unite with soul trio Dames Brown to deliver a dose of gospel-infused, joyous, uplifting house. Again, disco is the order of the day here and Sophie will always deliver.

WILDBLOOD & QUEENIE
The Queen & First lady of 1BTN! You want disco? You want camp, hands in the air feel good? You want to forget your worries and let the party to take you away? These are your ladies right here. Life & Dj partners, the love these ladies have for each other and for what they do is boundless & endless and it's infectious. Funny, skittish, entertaining, camp, they are the package; the music is wicked too!


NEW YEARS EVE – PLANET OF THE BREAKS
Jumped up, pumped up throwback breaks/big beat & breakbeat pressure, with an eye on the fact that it's NYE this promises to be a full on bass rattling party!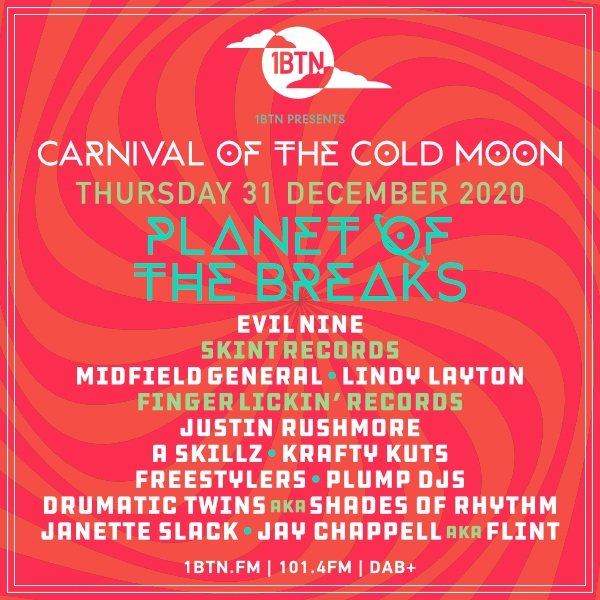 EVIL NINE
Tom Beaufoy and Patrick Pardy first came together in 1998 after meeting in Brighton. After sending in a demo cassette they were signed by Adam Freeland to his Marine Parade record label, with their first release being the single "Less Stress". After further single releases their debut album You Can Be Special Too was released to critical acclaim in 2004, winning the breakspoll 2004 award for best album. The album track "Hired Goons" features in the video game Test Drive Unlimited.The pair has developed a reputation amongst both fans and critics as not being afraid to push the boundaries of what is considered breakbeat music, and tend to incorporate a multitude of styles into their DJ sets. An example of this is the track listing for Fabriclive 28, which includes artists as diverse as Simian Mobile Disco, Bodyrockers, Mystery Jets, and The Clash. The boys have played regularly at various nightclubs both in the UK and around the World, holding residencies at some of them.

SKINT RECORDS WITH MIDFIELD GENERAL + LINDY LAYTON
Skint Records is a Brighton based dance music record label owned by JC Reid, Tim Jeffery and Damian Harris (Midfield General). It was created as a sublabel of Loaded Records, also founded by Reid and Jeffery. Along with Wall of Sound, the label was a leader in the big beat music scene of the mid to late 1990s. The label's roster at this time included big beat scene leaders Fatboy Slim, Hardknox, Indian Ropeman, Freq Nasty and X-Press 2. Towards the end of the 1990s and at the start of the 21st century the label expanded its range of releases to include more house based songs. The most prominent example was "Lazy" by X-Press 2, which charted at number 2 in the UK Singles Chart. Skint hit the charts again this year releasing Roisin Murphy's 'Roisin Machine' with the remix album 'Crooked Machine' dropping in the New Year. Singer Lindy Layton was a founding member of, and vocalist for, Beats International, along with Norman Cook. She has released a number of solo albums and singles, and worked with other musicians, more recently including Hardknox and Dub Pistols.

FINGER LICKIN' RECORDS TAKEOVER W/

Justin Rushmore / Soul Of Man
Soul of Man are Justin Rushmore and Jem Panufnik, together responsible for setting up the world famous Finger Lickin' Records. As producers they have created a barrage of funk driven records, and as performers are an international success story. They have signed some of the biggest name within the genre and as Djs have played at festivals and club nights all over the World.

Janette Slack
A DJ since the age of 17 and producer at 22, Hong Kong-born Janette Slack cut her teeth on the London club scene at iconic venues like Ministry of Sound, Fabric, The Cross and Cargo. Since returning to her hometown in 2014, she has played at music festivals all over. Jannette has since set up 'Slack Trax Studio' a cutting-edge recording and training studio. Beyond creating records, Janette, has produced and engineered sound projects for clients ranging from the BBC to Cantopop superstar Sandy Lam (林憶蓮).

Jay Chapell AKA Flint
1BTN resident and all round lovely man, Jay Chappell, released a handful of records on Finger Lickin' under his 'Flint' guise & has been in and around the music industry for around 25 years. Jay also released a number of Dj mixes for the 'Journeys By Dj' camp, who of course also released the legendary '70 Minutes Of Madness' by Coldcut & Gilles Peterson / Norman Jay 'Desert Island Mix'

A Skillz
Adam 'A.Skillz' is one of the country's most funky beatmeisters. His fierce production skills and turntable dexterity has seen him explode onto the scene, collaborating with hip-hop legends and making music for worldwide brands. His incredible deck talents involve fusing funk, hip-hop and breaks with his unique style of scratching and mixing. His reputation as a true party rocker has won him prime-time slots across the UK at FabricLive, Spectrum, Chew The Fat, Supercharged, The Boutique and Sugarbeat as well as gigs around the world at major events, festivals and music industry parties such as The Hit Factory (New York), WMC (Miami) and Field Day (Sydney)

Freestylers
Aston Harvey and Matt Cantor got together in 1993, through talking about the music they were into — electro, breakbeats, Afrika Bambaataa and the whole old school hip hop culture. But it wasn't long before they took their obsessions into the studio bringing a slew of chart topping hits. The Freestylers were the dancefloor sensation of the new millennium, a fast moving, electro-rocking monster movie that is going to hit your house like a tidal wave, and wash all your preconceptions out of the door.

Krafty Kuts
Martin Reeves, AKA Krafty Kuts, is without doubt one of the world's greatest DJs. Lauded in the UK, worshipped in Australia, acclaimed in America, where ever he plays he is guaranteed to cause a commotion with his riotous skills. So far in a glittering career he has gained dance music's top accolades including Best International DJ at the Australian Dance Music Awards, Breakspoll's Face of Breaks 2003 and Best Breaks DJ at the M8 Ibiza awards 2006, in only his first year as a resident on the white isle. A stunning haul at Breakspoll 2007 saw him claiming Best Album for his debut long player 'Freakshow', Best DJ for a record third consecutive year and to cap it off, the richly deserved Outstanding Contribution to Breakbeat award that acknowledged his long journey to the acme of club culture.

Plump DJs
Inspired by top shelf girly mag 'Plumper's' and riding on the crest of a dance music revival, the Plumps have created a sound that has single-handedly smashed the pseudo laddishness out of the nu-skool and brought breakbeat to the forefront of today's dance scene. Emerging from the nascent Nu Skool Breaks scene at the end of the last century, the Plump DJs are the quintessential production duo. Over the course of fifteen acclaimed singles and three superlative albums, Andy Gardner and Lee Rous have become heavyweights of cutting edge club music.



Drumattic Twins
Nick Slater and Lanx are the Drumattic Twins, the name a consequence of having amplified attacks of drum-machine seizures in their loft. True pioneers of the scene they have played an integral part of dance music history since they first appeared in the early nineties. In their original carnation as Shades of Rhythm they ruled the land with chart bothering anthems and in more recent times have established a worldwide fan base as the Drumattic Twins.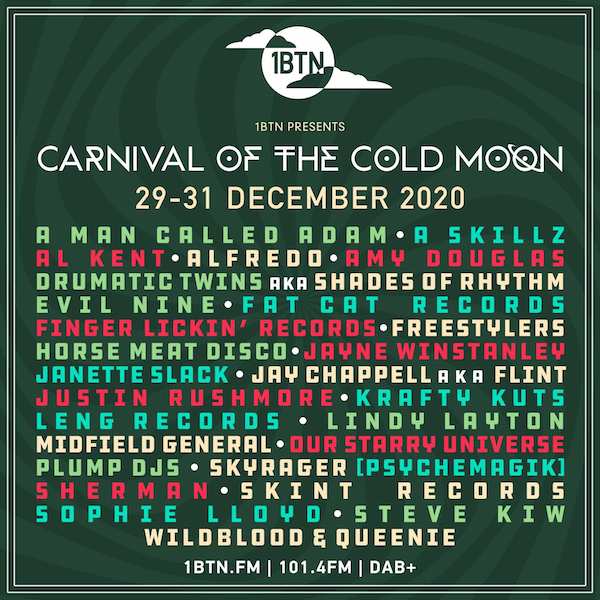 LISTEN HERE
https://1btn.fm/